Miss America axes talent competition
(Agencies)
Updated: 2004-07-30 16:04
The Miss America pageant is pulling the plug on its talent competition, eliminating the amateurish two-minute routines that have come to feature cheesy stunts such as tractor driving and trampoline jumping.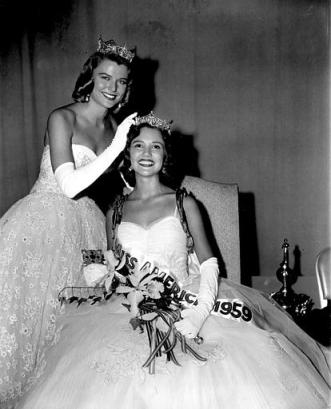 Miss America 1959, Mary Ann Mobley, of Brandon, Mississippi, is crowned by outgoing Miss America Marilyn Elaine Van Derbur at the Miss America Pageant in Atlantic City, N.J. The Miss America pageant is pulling the plug on its talent competition. [AP]

Instead, this year's crowning Sept. 18 will showcase some of the women performing in a videotaped montage culled from talent routines staged in preliminary competition.

Just one contestant chosen by the pageant's producers will perform live, after the selection of the five finalists for Miss America 2005. ABC-TV is trimming the telecast to two hours this year.

"It's the cornerstone of our organization. It's what sets us apart," said Miss America CEO Art McMaster. "If it were up to me, I'd show all 52 talents on TV. But when you're in a collaborative effort, as we are with ABC, there had to be a compromise somewhere."

Last year, an all-time low 10.3 million viewers tuned in, marking a steady decline over the last few years.

The talent routines, introduced in 1935 to help make Miss America something more than a beauty contest, became mandatory in 1938 and have been ever since. But the routines ¡ª sometimes spectacular, more often not ¡ª have generally turned off viewers.

Most typical were the baton twirlers, opera singers and piano players. But through the years, contestants have ridden horses on stage, stomped on broken glass, jumped on trampolines or driven tractors.

The talent routines once accounted for 40 percent of a contestant's score; they were 20 percent by last year. The routines will still be included in the three nights of preliminary competition leading up to the televised Saturday night crowning.

The casual wear, swimsuit and evening wear elements of the contest, which last year counted for 10 percent of a contestant's score, will each count for 20 percent this year, McMaster said.

Pageant loyalists don't like the changes.

"They're eliminating one of the core values of the Miss America competition," said former CEO Leonard Horn.

Heather French Henry, Miss America 2000, was also critical. "It's a tragedy," she said. "That's what separates us from the type of contestant that goes to Miss USA. Our young ladies get into it for the scholarships and the talent."




| | |
| --- | --- |
| | |
| Titbits of life in Beijing | |

| | |
| --- | --- |
| | |
| Gong Li and Yeoh to star in Spielberg geisha film | |

| | |
| --- | --- |
| | |
| Xu Jinglei's new directing credit | |
Today's Top News
Top Life News

Beijing: Chen Shui-bian may cause Straits conflict




US regrets for beating of Chinese woman




Kerry vows to restore 'trust, credibility'




Pakistan joins land forces drill in Xinjiang




Suppliers of blood under investigation




US sellers of pirate DVDs nabbed in China