Kerry vows to restore 'trust, credibility'
(Agencies)
Updated: 2004-07-30 11:39
US Democratic presidential Sen. John Kerry challenged President Bush's Iraq policy in blunt, biting terms Thursday night and promised cheering Democratic National Convention delegates, "I will be a commander in chief who will never mislead us into war."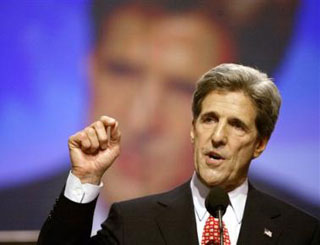 US Democratic presidential nominee John Kerry speaks to delegates during the Democratic National Convention at the FleetCenter in Boston, Thursday, July 29, 2004. [AP]

"America can do better, and help is on the way," the Democratic presidential nominee vowed over and over in a prime-time acceptance speech that marked the beginning of the general election phase of his long quest for the White House.

"Saying there are weapons of mass destruction in Iraq doesn't make it so," said the four-term Massachusetts senator, a decorated Vietnam War veteran battling an incumbent president in an age of terrorism.

"Saying we can fight a war on the cheap doesn't make it so. And proclaiming mission accomplished certainly doesn't make it so," Kerry told thousands of delegates packed into an overheated, overcrowded FleetCenter as well as a nationwide television audience of uncounted millions.

The hall erupted in cheers as Kerry completed his speech with a promise that, "Our best days are still to come," and the ovation grew louder when running mate John Edwards joined Kerry on the podium, followed by their wives and children.

Moments later, tens of thousands red, white and blue balloons and strips of confetti beyond counting floated gently to the floor.

An hour earlier, the 60-year-old lawmaker made a triumphant entrance into the hall for the most important speech of his political life, walking a happy gantlet of delegates who reached out eagerly to greet him. "I'm John Kerry and I'm reporting for duty," he said moments later from the podium - and snapped off a salute.

In a speech salted with frequent references to patriotism and service, Kerry said the American flag doesn't "belong to any president. It doesn't belong to any ideology and it doesn't belong to any political party. It belongs to all the American people."

The Democratic challenger's speech capped a four-day convention designed to persuade millions of undecided voters in the battleground states that he is a man tested by war and ready to assume command.

On the last evening, as on all others, nothing was left to chance - from a new campaign video designed to show Kerry's softer side to a brief tribute from fellow Vietnam veteran Jim Rassmann.

"John Kerry saved my life," he said simply.

Eager to strike out from their convention city, Kerry and vice presidential running mate John Edwards depart Friday for a 3,500-mile, coast-to-coast campaign swing through 21 states.

After spending the week at his Texas ranch, Bush resumes campaigning this weekend with a bus tour of battleground states and a new message. "We have turned the corner, and we are not turning back," he says in a new stump speech, excerpts of which were obtained by The Associated Press.

Kerry began the week tied or slightly ahead of Bush in the polls, a strong position for a challenger. Whatever sort of surge in support he receives from four days of his highly choreographed convention, Republicans hope to counter next month when they meet in New York to nominate Bush and Vice President Dick Cheney for re-election.

In his speech, Kerry painted a portrait of a nation suffering economically after four years of Republican rule.

"Wages are falling, health care costs are rising and our great middle class is shrinking. People are working weekends; they're working two jobs, three jobs and they're still not getting ahead," he said.

"We can do better and we will. We're the optimists," he said, and added, "We value an America where the middle class is not being squeezed, but doing better."

Kerry's decision to question the president over Iraq comes at a time when Bush is struggling to reverse a decline in support for his policies in a conflict that has claimed more than 900 lives, many of them since the president stood on an aircraft carrier beneath a banner that proclaimed "Mission Accomplished."

A Pew Research Center survey earlier this month showed 42 percent support for Bush on the war, down from 59 percent six months earlier.

But Kerry expanded his criticism far beyond Iraq as he sought to draw a contrast with the president on the national security issues he has placed at the core of his challenge for the White House.

"In these dangerous days there is a right way and a wrong way to be strong," he said.

"Strength is more than tough words," Kerry added in a slap at Bush without mentioning the commander in chief by name.

"I will immediately reform the intelligence system so policy is guided by facts, and facts are never distorted by politics," he said in reference to claims that the president relied on faulty intelligence in deciding to invade Iraq in 2003.

"And as president, I will bring back this nation's time-honored tradition: The United States of America never goes to war because we want to, we only go to war because we have to," Kerry said.

Kerry voted in October 2002 to give Bush the authority to use military force to topple Iraqi leader Saddam Hussein, but later voted against legislation providing $87 billion for Iraq and Afghanistan.

Kerry's convention scriptwriters supplemented the speech with a biographical video pitched to voters who will choose a president come fall.

"My promise is to lead our country, to bring people together and take us to a better place," the lawmaker said in the nine-minute campaign documentary.

The video also includes the first reference from the convention podium to Kerry's emergence as a prominent anti-war activist more than three decades ago after he returned home from Vietnam.

Bush's GOP surrogates kept up their weeklong criticism of the Kerry-Edwards ticket in terms likely to recur throughout their own convention.

"Everything and anything has been discussed but their record," said former New York Mayor Rudolph Giuliani of the Democrats, joining a string of Republicans accusing Kerry of trying to obscure a career-long record of liberalism.

The convention's final evening was as rigorously scripted, designed to flesh out Kerry's biography and emphasize his experience as a decorated veteran.

The video was part of the effort to shed Kerry's image as an aloof politician, casting him as an athlete and a musician, a Yale graduate and a prosecutor, a soldier and a son, a father and a husband.

"I cried like a baby when they were born, both of them," Kerry says of his two daughters, Vanessa and Alexandra.




Today's Top News
Top World News

Annan applauds China's role in United Nations




Talks ongoing to free kidnapped Chinese




WHO report highlights traffic safety in China




China issue rules on overseas investment




Assessing status of nation's health




Bus crash kills 21 in Southwest China