Diana fountain bubbles with controversy
(Agencies)
Updated: 2004-07-30 09:09
Hot and bothered -- those seeking respite from London's expected heatwave this weekend will not be cooling off in the Princess Diana Memorial Fountain.
Less than three weeks after it was opened by Queen Elizabeth, the fountain in London's Hyde Park has been left high and dry after becoming plagued by everything from rogue leaves to slippery green algae.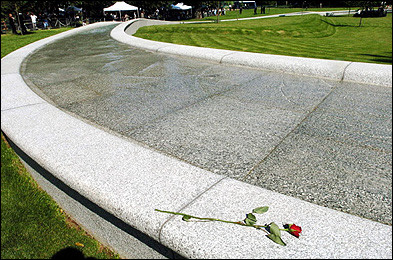 The Princess Diana memorial fountain, the first permanent memorial dedicated to Diana, is now a building site as workmen drill grooves into the granite structure to prevent further slipping. [AFP]


Everyone passing the huge oval fountain shares thoughts on the luckless project, closed last week indefinitely after three people, including a child, slipped and injured themselves.

The shallow channel, around 200 metres (660 feet) in circumference, was designed to allow visitors -- particularly children -- to splash around in its circular water flow, but has drawn distinctly mixed reviews.

"It's not as elaborate as I thought it would be," said an American tourist visiting with her teenage daughter. "I am disappointed. For what she has done, I don't think that it's enough."

Diana, former wife of Prince Charles -- heir to the throne -- and known to besotted devotees as the "People's Princess", died in a car accident in Paris in August 1997, prompting an enormous outpouring of public grief.

The fountain, the first permanent memorial dedicated to Diana, is now a building site.

Workmen, penned in by a two-metre (seven-foot) fence to keep out the public, drill grooves into the granite structure to prevent further slipping.

Others are busy raking the scorched earth around the edge of the monument.

"This is nothing -- at the end of the day it's a round circle," said Jimmy, 36, visiting with his family from northeast England.

"I'm just not impressed with it at all, not for Diana," he told AFP. "I think a proper fountain with some kind of a statue on it would have been a lot nicer."

Even when fully functional, the 3.6-million-pound water sculpture received some harsh criticism.

The press dismissed it as a "puddle", saying it was too understated for a memorial to a princess.

Mohamed Al Fayed, the multi-millionaire owner of department store Harrods, whose son Dodi died with Diana, said it resembled "a sewage works".

Not everyone, though, has written it off as a complete disaster.

"I like it because it seems to create a lot of happiness for the children which I think Diana would have liked," said one of two elderly women peering quizzically through the railings.

"The problem is algae grows on the concrete and it becomes slippy and makes people slip over," she said. "They've now got to try and think of a way round that."

Royal Parks, which manages the project, was unable to say when the water might be turned back on.

"The objective is that when we reopen the Memorial Fountain it will be as safe at it needs to be," a spokesman told AFP.

A workman involved in the "remedial work" on the fountain, said he doubted it would ever be a success.

"It could take for ever to iron out all the fountain's problems," he told AFP.

Apart from safety issues there was a massive problem over the grass surrounding the fountain, he said.

"If it was still open and we had three days of dryness it would turn into dust," he said. "If it was still open and we had a couple of days of rain it would turn into a mudslide."

While it is clear Diana remains close to most people's hearts here, one woman told AFP she believed the love affair between the public and the princess was beginning to wane.

"I think maybe people aren't quite as interested now," she said. "I think life moves on and okay we all remember her."

But Jimmy disagreed: "There's still a lot of love for her, no doubt about that."




Today's Top News
Top World News

Beijing: Chen Shui-bian may cause Straits conflict




Kerry vows to strengthen U.S. military




Pakistan joins land forces drill in Xinjiang




Suppliers of blood under investigation




Huawei, Cisco settle IPR dispute




More downpours to drench country