Fellow GIs tout Kerry courage under fire
(Agencies)
Updated: 2004-07-30 08:54
Standing with a dozen Vietnam crewmates, all fiercely loyal to John Kerry, US Democratic presidential candidate, former Special Forces officer Jim Rassmann is telling the nation how Kerry saved his life in 1969.
Rassmann's story of his dramatic brush with death was scheduled just before the presidential nominee's acceptance speech on the final night of the Democratic convention, designed to accentuate Kerry's leadership in wartime.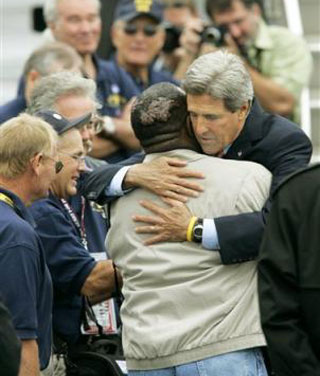 US Democratic presidential candidate Sen. John Kerry, D-Mass., hugs an unidentified man while surrounded by some of his Vietnam War crewmates who greeted him upon his arrival at Logan International Airport in Boston Wednesday, July 28, 2004. [AP]


Politics aside, working with Kerry this year has also helped Rassmann define his own wartime memories.

"Compartments that I have closed long ago are being pried open by all of this," the 56-year-old said. "I think that the catharsis it has provided has been very beneficial. To one degree or another, the same is true of all the crewmates and John himself."

Kerry's service in Vietnam as commander of a Navy swiftboat in the Mekong Delta has been a main theme of the convention, and so has Rassmann's role in those events 35 years ago.

Rassmann, who was leading a group of mercenaries on special operations, was knocked from the deck of Kerry's 60-foot patrol boat during an ambush on March 13, 1969. He dived toward the river bottom to avoid the propellers, as bullets and rockets flew overhead. When he came up for air, the boat was gone and Viet Cong on the river banks were sniping at him. Kerry, noticing the man alone in the water, turned the boat around and came back for Rassmann, who grabbed a rope net on the bow.

He was not able to climb onto the deck, but Kerry pulled him over, earning a Bronze Star for valor and a Purple Heart for being wounded that day.

"I'll be forever grateful to John for pulling me over that thing," Rassmann said.

Many speeches at the convention have touched on the episode, with everybody from vice presidential nominee John Edwards on down pointing to it as evidence of Kerry's decisiveness in crisis.

It's a theme the swiftboat crew will take on the road over the next three months, as their jobs allow, according to John Hurley, director of Veterans for Kerry. All those who appeared in Boston have also volunteered to continue working for Kerry.

Some have become active in their home states, others will travel nationally. The campaign plans to assemble the swiftboat crew, or as many as can make it, for bus tours through the swing states where the election will be decided. Sometimes they will be joined by younger veterans from Iraq.

"These guys in particular, their story is compelling, these guys are the perfect ones to validate his character to be president of the United States," Hurley said.

Some veterans have criticized the attention focused on Kerry's actions, saying they have been exaggerated for political gain. And Republicans have played down Kerry's war years. "The theme of the Democratic convention is to play up Sen. Kerry's Vietnam heroics, to obscure his Senate record" said Sen. Gordon Smith, R-Ore.

Rassmann will have no part of that.

The former Los Angeles sheriff deputy was concentrating more on his hobby of raising orchids in a greenhouse in Florence, Ore., when he stepped into national politics in January. Rassmann, who had previously voted Republican, called Kerry's lagging presidential primary campaign in Iowa and asked if he could help.

He imagined working a phone bank or licking envelopes. Instead, he was asked to talk about Vietnam. His appearance in Iowa galvanized the campaign in that state, campaign aides have said. Rassmann has since flown around the country on Kerry's plane, talking to veterans' groups and rallies in many states.

"It's the first time I've had to address my Vietnam experience in such a public way. I'm much more relaxed talking about some of those things, even thinking about them," he said.

He has recounted how Kerry and he retrieved the body of a soldier killed by a mine, placing the man's shattered frame in a rain poncho to carry to the boat.

He has said he expected to die in the river before the boat turned around. He recalled being exposed as a target to Vietnamese gunners while dangling from the net on the bow.

"I had buried these things. It took some precipitating event to bring them out," he said of the campaign's role in jarring loose the old memories, which once caused him to break down in tears before the traveling version of the Vietnam Memorial wall. "We did all sorts of things" in Vietnam, he said. "Most of the guys I worked with are dead."




Today's Top News
Top World News

Annan applauds China's role in United Nations




Talks ongoing to free kidnapped Chinese




WHO report highlights traffic safety in China




China issue rules on overseas investment




Assessing status of nation's health




Bus crash kills 21 in Southwest China