The party spree is over
By Brandon Zatt (City Weekend)
Updated: 2004-07-29 16:07
Shanghai: On May 14, the tree-lined party street of Maoming Lu received a wakeup call when a contingent of 40 representatives from a slew of government departments visited all 28 bars and clubs between Fuxing Lu and Yongjia Lu. Their demand was simple: kill the music, change your style, and become quiet-style lounge bars.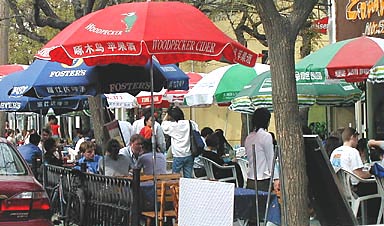 A daytime scene from Sanlitun South Street, a resort for Beijing bar-goers. [baidu]

Beijing: In early Spring, bars along the popular Sanlitun were informed that they would have to pack up and ship out by July 3. The wrecking ball was already waiting in the wings, and development plans laid out on their doorsteps.

Everyone knows how it feels when a party gets busted: the music dies, conversation ceases, and unease reigns. Now, it seems to be happening to an entire party scene, in two cities. One Maoming bar owner described the current situation as being "much worse than SARS" for his business. Beijing's Li, owner of South Street hot spot Black Sun, echoed this sentiment: "The reputation and atmosphere of South Street will never be replaced, even when these walls are destroyed."

In Beijing, half of South Street (the side home to Huxley's, Black Sun, and the now demolished Jam House) will be the first to go down, supposedly by the end of the month. The East side of the street's demolition date has yet to be confirmed, so Durty Nellie's, Nashville, and Hidden Tree are destined to be the last standing on the strip. Plans, hushed and rumored, are that South Street will be replaced by upscale housing units.

For Shanghai, the motivation for Maoming regulations is a "clean-up", rather than development, with rumors of government officials (among them Jiang Zemin), set to retire in the area.

What Maoming Lu and Sanlitun South Street share is a reputation as a place to party all night, any night. Nowadays on Maoming Lu, the neon still glows but a dirge-like hum from hidden sound systems is the only sound heard. In Beijing, the bars pushing the party as far as they can go, beyond their July 3 deadline, still welcoming students, ex-pats and tourists to the multitude of small watering holes along the street and into the off-shooting lanes. Rather than proudly tout their bars and their forthcoming events, staff in both Shanghai and Beijing are now huddling in dark corners, whispering about who pulled the plug.

When Kathy Huang and partner Julian opened dkd (decadence kills depression) in Shanghai in 1999, Maoming Lu was still filled with local eateries and clothing shops. "At that time, nobody thought Maoming would take off. Otherwise we would have bought every lot on it. We just wanted a new experience, to do something fun." Within two years they had helped launch Shanghai's hip-hop scene and were blazing the city's path for electronic music.

Maoming Lu grew. From a nucleus of Judy's Too, dkd, and Manhattan, bars and clubs spread like tree roots. Potential customers became real customers, and a previously marginalized ex-pat bar scene became a Shanghai institution drawing people from all walks of life. Maoming's wide variety and moderate prices drew everything from CEO's to backpackers, office workers to artists. Closed to traffic on weekends, revelers had free reign, and on busy nights the street often resembled a block party.

The same is true of Beijing, except that Sanlitun South Street was grungy from the get-go. Starting with Singles in 1996, it developed an image of unpretentious party-without-attitude style in the form of Nashville, Jam House, Sushi-ya, Hidden Tree, River, and more. There was something for everyone, always: the ex-pat havens of Durty Nellie's or Hidden Tree, the alt-rock hippy den of the ex-River bar; or the cheap student hang-outs Black Sun and Huxley's. "South Street is a place where people danced outside, where people would spill into the street, and mix," said Ye Zi, a young television editor, seated on the steps of Black Sun. Of Beijing's major nightlife areas - Chaoyang Park, Nuren Jie, and Hou Hai - Sanlitun South Street has been by far the most popular through the years.

Of Shanghai's three major bar areas - Hengshan Lu, Xintiandi, and Maoming Lu - only Maoming lacked government sponsorship. Privately owned and run, Maoming nightspots were often direct expressions of owners' style and taste. It was this entrepreneurial spirit that brought people back, time after time. Never formally planned, its organic growth reflected a market-driven push in China for a place to party and blow off steam. China's embracing of nightlife was both fueled and fed by Maoming's fire.

Kathy of dkd recalls the practicalities of the early years: "The only licenses available then were either for singsong tea houses, or for ballroom dancehalls. We tried to get all the proper licenses but at the time, China was not ready."

The first large-scale Maoming crackdown occurred in August 2000, when about 40 police took the street, shutting down bars, drug testing patrons and fining owners. Kathy sensed their days numbered: "No one could say when but, from that moment on, we all knew that the Maoming Lu experiment would one day come to an end."

For Beijing, it hasn't been the police hassling partygoers and bar owners, but rather, real estate companies. "We started to hear whispers of demolition plans as early as Singles went up on South Street in 1996," says Yuan Hai of Huxley's Bar. He was first employed as a bartender at Singles and then branched out to start his own bar in 1999. Owner of the land Yang Guisan, an employee of the Chaoyang District Education bureau, has reclaimed the buildings on South Street in anticipation of the Tianhong Baowei Development Co's, imminent demolition plans. "To be honest, we're unclear as to when they plan to knock down these buildings," says Yang Guisan. "But unlike with past threats, this time the bars have had to clear out."

And in place of the bars? The rumors are ripe - from car parks, to shopping malls, to international schools. But one rumor outruns all others - that the area will be turned into a "gaoji gongyu" district incorporating all of the above - upscale apartments, schools, car parks, and shops. The Tianhong Baowei Development company, unlisted and untraceable, was not available for comment - nor would bar owners on South Street hand over the developer's information.

"The problem through the years for these real estate companies when they try to buy the land on South Street," explains Yuan of Huxley's, "is that they have to compensate each resident approximately Y6000-8000 per square meter, even the random xiaomaibu (small stalls)." Yuan explains that in such a densely populated area, this cost if phenomenal.

Yuan says this explains bar managers' ambivalence towards their destruction; but even the most optimistic of them was given a start when they saw street stalwart Jam House be turned into rubble during June. It seemed the threats were real.

Real estate development may be the reason for the demise of South Street, but the problems facing Maoming are different: noise pollution is the ostensible reason for shutting down the road, and the official line is that constant all-night parties caused local residents to petition local authorities to subdue the street. One bar owner, who asked to remain nameless, responded to this idea with a derisive snort: "What local residents? This is a business district. There are no residents on this block." The more likely reason is the retired officials, waiting on the doorstep.

One block north, foreign resident Chris Cottrell reminisces about pre-crackdown Maoming: "Actually, the music never bothered me. Most of the noise came from taxi drivers honking their horns." Nevertheless, music registering more than 50 decibels is forbidden. In addition, doors must close at 2am, and fines are levied on those who don't obey. Former hotspot M-Factory says their earnings are down 80 per cent. Six bars have already shut their doors. For Maoming Lu, May 14th was the day the music died.

Violence, drugs, and prostitution are thought by many to be the real reason for the crackdown. However, a quick reconnaissance of Shanghai's other nightspots reveals that, rather than being dealt with, these antisocial elements have simply moved elsewhere.

Others say the Maoming shakedown may be emblematic of a larger policy shift in regards to Shanghai's development and growth. After years of criticism for it's lack of parks and open space, Shanghai is striving to become a "green" city. Plans call for Maoming to be razed within two years and transformed into a cultural square. Cynics among the bar owners say that this move motivated by the hope that a loss of business will cause bars to slowly die through loss of revenue - alleviating the need for costly compensation payments when the wreckers do actually arrive.

Maoming is not the only spot in Shanghai's former French Concession scheduled for redevelopment. Legendary Xiang Yang Market, a bastion of bootleg goods, the Sha'anxi Lu Flower Market, the French-colonial style residences named Bourbogne Street are on the docket to be razed within the year. Taking issue, one bar owner states, "Top Beijing leaders are retiring and returning to Shanghai. Around here are four homes for the most senior officials. They want to make this area their peaceful retirement ground."

Some Maoming bars are soundproofing in the hope that, in the spirit of Hong Kong's largely successful Lan Kwai Fang, decreased noise will turn the tide of disapproval. Alago, former manager of Maoming's hip-hop hot spot Windows Roadside, comments, "Some people still hope Maoming will come back, that they can improve things and save the scene. But I think it's finished." Windows Roadside is now hemmed in on all sides by brick walls. "It's like being inside a bunker. Who wants nightlife like that?"

With bars and clubs becoming increasingly popular among local Chinese - and ex-pat communities in Beijing and Shanghai experiencing exponential growth - demand for nightlife is unlikely to slacken. Though several bars have risen up on Maoming's demise, offering spring break style atmosphere and all-you-can-drink specials, the bar scene is yet to find a new home. According to Alago, "Now is the best time to open a bar in Shanghai. The only problem is, nobody knows where." Nearly five years ago, Julu Lu's bar scene was shut down and, though it now operates freely, never regained its crown as the city's hottest spot.

With no word from Maoming's bar owners as to what may happen next if they clean up their acts, Sanlitun's owners have moved to greener pastures - or are at least in search of greener pastures. Jam House's Bing Bing runs the successful Yan Club in Dashanzi. Yuan Hai of Huxley's has launched his hutong bar Red Yard, at Kuan Jie. Yun Meng has moved in beside the CD Cafe. Black Sun migrated to the Chaoyang Park area in 2001. Durty Nellie's sister sits at Liangma River. The Hidden Tree says they are actively seeking out a new home. "It's just not the same at Chaoyang," says Black Sun owner Li, of the South Street Black Sun. "On South Street, people just drop in because they're here - but our bar at Chaoyang Park doesn't compare - nor is our clientele the same."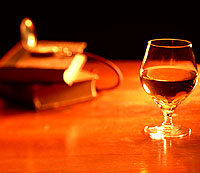 "I predict the next hot spot to be Nuren Jie," says Yuan Hai. "The embassies are moving out that way, and that's what once brought us life, so it should do the same in time for that area."
Summertime brings floods to China something new will be left in their wake. As the race to find fertile land heats up, Beijing and Shanghai's revelers wait with baited breath, praying that someone will quickly hit pay dirt.
| | |
| --- | --- |
| | |
| Titbits of life in Beijing | |

| | |
| --- | --- |
| | |
| Gong Li and Yeoh to star in Spielberg geisha film | |

| | |
| --- | --- |
| | |
| Xu Jinglei's new directing credit | |
Today's Top News
Top Life News

Taiwan: Don't test Beijing's resolve




US police brutality victim seeks justice




Iraq suicide car bomb kills 68, wounds 56




Credit under better control




China opens first research station in Arctic




3 diplomats killed Costa Rica hostage drama