200 French Jews arrive to live in Israel
(Agencies)
Updated: 2004-07-29 08:46
Just 10 days after Israeli Prime Minister Ariel Sharon enraged French leaders by urging France's Jews to leave for Israel, a group of 200 French Jews arrived to start a new life in the Jewish state, with Sharon at the airport to greet them.
At a welcoming ceremony, Sharon appeared to try to correct the damage from his earlier statements, saying anti-Semitism threatens the Western world, without singling out France.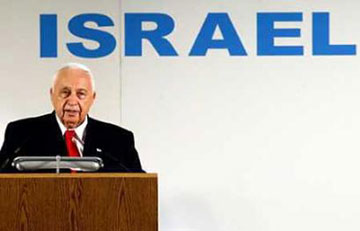 Israeli Prime Minister Ariel Sharon speaks during a ceremony at Tel Aviv's airport for the newly arrived immigrants from France, July 28, 2004. Sharon praised France for 'determined action' against anti-Semitism, dampening a diplomatic spat over his remark suggesting anti-Jewish feeling was out of control there. [Reuters]


"We therefore very much appreciate the determined actions of the French government, as well as the French president's stand against anti-Semitism. We hope that his determination will serve as an example to other countries as well."

Softening his earlier appeal, Sharon said, "Jews must come to Israel not because of hatred or fear. Jews must immigrate because it is their homeland."

Emerging from the plane, the immigrants sang "Heveinu Shalom Aleichem," or "we bring peace to you," a traditional Hebrew song of greeting. A heavyset man with a beard, wearing a white shirt and skullcap, danced, his arms above his head.

Carol Ben Guigui, 41, carrying a dog in her arms, said: "In five or 10 years, all the Jews of France will be in Israel because of anti-Semitism."

"Welcome to Israel," Sharon said, "welcome home."

Also at the airport to greet the immigrants were opposition Labor Party leader Shimon Peres and Israel's two chief rabbis.

The group included 50 children and 55 university students, according to the Jewish Agency, the body that deals with immigration to Israel.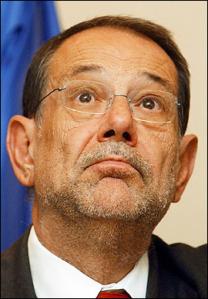 EU foreign policy chief Javier Solana urged Palestinian president Yasser Arafat to grant his premier wider powers so that he can adequately carry out much-needed reforms. [AFP]

In a July 18 speech to visiting Jewish American leaders, Sharon told them France was host to "the wildest anti-Semitism."

"If I have to advocate to our brothers in France, I will tell them one thing: Move to Israel, as early as possible," he said.

The French Foreign Ministry quickly issued a terse statement calling the remarks "unacceptable" and demanding an explanation. The next day, French President Jacques Chirac called on the Israeli prime minister to explain his remarks and said that until he does, Sharon would not be welcome in France.

Israeli media later reported that Chirac sent a message to Israeli President Moshe Katsav, saying he now considered the incident closed. Chirac's office could not confirm the reports.

About half of those who arrived on Wednesday's flight from Paris came under an Israeli government program initiated a year ago bringing French Jewish groups to Israel. The other newcomers also started planning to emigrate long before Sharon's speech last week, immigration ministry officials say.

France is widely viewed in Israel as biased in favor of the Palestinians. The French Jewish community — at 600,000 the third-largest in the world — tends to be strongly pro-Israel, creating friction with a Muslim population of almost 5 million.

The latest French Interior Ministry figures show 510 anti-Jewish acts or threats in the first six months of 2004 — compared to 593 for all of last year.

While France has strengthened security at Jewish institutions and enacted tougher punishments for people convicted of such crimes, a sense of uneasiness and betrayal has some Jews questioning where they belong.

According to the Israeli government, 7,024 immigrants have come from France since 2000 — from a low of 1,160 in 2001 to a high of 2,385 in 2002. In the first half of 2004, 647 French Jews immigrated to Israel.




Today's Top News
Top World News

Taiwan: Don't test Beijing's resolve




US police brutality victim seeks justice




Credit under better control




China opens first research station in Arctic




Japan sending team to probe toxic bombs




WWII fighter plane to be salvaged