Boomtowns change path of China's growth
By HOWARD W. FRENCH (New York Times)
Updated: 2004-07-28 14:24
The cranes peek out from behind skyscrapers in every direction, wheeling and nodding in a slow-motion ballet as crews work around the clock to fill in an already crowded skyline.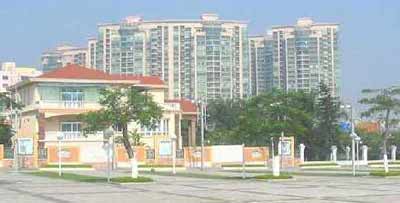 Dongguan has grown from a small town to a city of seven million. [file photo]


Newly planted palms line the sides of broad, newly traced avenues where the traffic lights have not been turned on yet.

Dongguan has exploded from a mere town to a city of 7 million in a little over 20 years. But the city officials are not content with a 23 percent annual economic growth rate. They are putting the finishing touches on a vast, entirely new annex city that they hope will draw 300,000 engineers and researchers, the vanguard of a new China.

"We are the first in China to pursue this kind of vision,'' said Wang Jianya, deputy director of the development, called Songshan Lake Pioneer Park. "We're not trying to be the biggest, only the best.''

Dongguan is one of a score of Chinese megacities whose extraordinary growth reflects China's boom and its challenge. The country's rapid urbanization is helping to lift hundreds of millions of rural Chinese out of poverty. But at the same time, these new second-tier cities are locked in a ferocious competition, spawning ambitious development plans that escape the control of the central government in Beijing.

Economists like Tang Wing-shing, a specialist in urban development at Baptist University in Hong Kong, worry about the consequences: waste of resources, loss of arable land, fiscal crises, corruption and pollution.

"Every city wants to develop into a world city, and every one wants to have an international airport, six-lane highways and export zones, rather than integrated growth,'' Professor Tang said. "This is what we are observing in China today. All of the cities have been turned into vast construction zones, and the government has not contemplated the consequences of this yet.''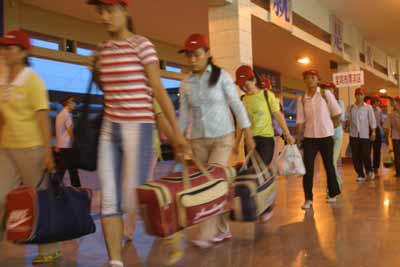 Women from Baoji, Northwest China's Shaanxi Province, board a train to Dongguan in hopes of finding a job in the south China's boom town, July 20, 2004. [newsphoto]
China has 166 cities with populations over one million, compared with nine in the United States. China's urban population is growing at 2.5 percent a year, among the fastest rate in the world, according to the United Nations Population Division. That compares with 0.8 percent in India, another large, fast-developing nation.
In fact, Beijing has found its powers to slow runaway growth to be surprisingly limited, in part because provinces and cities resist efforts to rein in their investments.
Although the central government allots money to pet development projects, provinces raise money for their own projects by selling rights to develop real estate. In many cases, local officials are judged in part by economic measures - how many jobs they create, how many big buildings spring up.
That means that many provincial officials are trying the same formula: manufacturing and export zones, research parks and self-styled Silicon Valleys like Pioneer Park in Dongguan.
Dongguan's officials, in fact, have even bigger plans.
"In the future our goal is 10 million people," Dongguan's deputy mayor, Zhang Shenguang, said. "Beyond that, we may have problems with electricity and water."
But the model Dongguan is pursuing has not always worked. Yehua Dennis Wei of the University of Wisconsin cited the case of Wenzhou, an eastern city of 1.4 million. Like many second-tier cities, Wenzhou is straining to beat the competition by creating research and development and manufacturing zones.
Because Wenzhou is not that close to the major concentrations of business in China's booming Yangtze Delta, businesses are leaving for bigger cities like Shanghai. Scrambling to woo more business, local governments like Wenzhou keep giving away more land and building even bigger industrial parks.
The unchecked development means there is little ability to consider China's needs as a whole, or to prevent duplication and waste.
Some cities, though, are trying a different approach to growth. One landlocked city that seems to be thriving, Wuhan, which sits astride the broad Yangtze River 400 miles west of Shanghai, has struck on a formula of its own.
To be sure, Wuhan, a city of 4.5 million official residents and millions of migrants, has its own research and manufacturing parks, one of which is a sprawling place called Laser Valley, which contains fiber-optic, electronics and pharmaceutical companies arrayed one after another on a huge grid.
But the main thrust of Wuhan's strategy has been to rely on an old-line industry, automobile manufacturing, whose history here predates China's economic reform. By selling off assets to foreign and domestic investors and encouraging foreign automakers like Nissan, Honda and Citroen to enter into joint ventures with Chinese companies, Wuhan is positioning itself for re-emergence as the Detroit of China.
The city has even managed to sell its central location as a boon for efficient distribution at a time when domestic car sales here are booming.
Wuhan is hardly more of a household name overseas than Dongguan, but its recent growth has outpaced Dongguan's. In an interview, the city's mayor, Li Xiansheng, proudly reeled off the latest statistics: 13.8 percent growth for the first half of the year, along with 26 percent tax revenue growth and 50 percent fixed capital growth during the same period.
"In the past, I regret to say, we were left behind by a lot of eastern cities, but Wuhan is determined to play its role,'' Li said. "If you draw a circle of 2,000 kilometers in diameter with Wuhan at its center, 80 percent of Chinese cities will be fall inside it. We are blessed to be the economic hub of central China.'' The radius he mentioned is a little more than 1,200 miles.
Wuhan is dotted with technical colleges and trade schools, rather than the proliferation of research parks and new universities seen in so many other cities, winning it praise from manufacturers.
"Wuhan has a long history of auto production, and there are excellent human resources here for that reason,'' said Liu Yuhe, deputy general manager of the Dongfeng Honda Autowork, a Chinese partner with several foreign car makers.
There is another reason for Wuhan's success: its higher education is among the best in China's provinces. The schools have faculties of auto production and auto engineering, resources unmatched anywhere else in the nation.
Which approach to economic growth will prove more successful in the long run - export-dominated technology zones or the more deliberate rise up the ladder of industrial development - is an open question.
For all its cachet, Dongguan has dozens of competitors trying variations of the same thing, and many of those experiments seem destined to end unhappily. Wuhan, on the other hand, has found a niche but could conceivably see its star fade like those of America's steel towns.
"Overplanning a city will kill it, but so will trying to make it a steel town, a car town or an electronics town,'' said Richard Florida, an expert in urban development at Carnegie Mellon University in Pittsburgh. "What you have to do is allow people to use their own energies and allow markets to create the new city in their own hurly-burly way, and that's usually a messy, unpredictable process.''
(Courtesy of New York Times)

Today's Top News
Top China News

Opinion: China policy volatile in US election




Suicide car bombing kills 51 in Iraq




Chinese-American faces trial for spying




China shuts down 700 porn websites




Boomtowns change path of China's growth




Japanese-left bombs injure Jilin boys