Kennedy says Bush should be replaced
(Agencies)
Updated: 2004-07-28 10:17
US Sen. Edward M. Kennedy, Democratic titan and patriarch of the country's most enduring political dynasty, told the party faithful Tuesday night that America can only reclaim its greatness by denying President Bush a second term.
"The goals of the American people are every bit as high as they were more than 200 years ago," said Kennedy. "If America is failing to reach them today, it's not because our ideals need replacing, it's because our president needs replacing."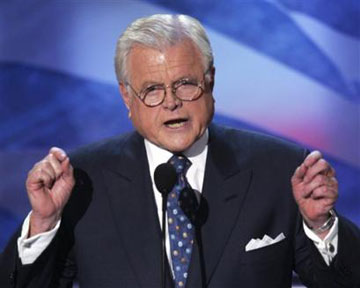 US Sen. Edward M. Kennedy, D-Mass., the convention honorary chairman, addresses the delegates at the Democratic National Convention on Tuesday, July 27, 2004, in Boston. [AP]


Kennedy, who worked tirelessly to win the 2004 convention for Boston, greeted the cheering throng by saying, "Welcome to my hometown." About 100 members of his extended family joined him in the city that is the birthplace of the Kennedy dynasty. Loyalists cheered and waved "Kennedy" signs and homemade placards reading, "Kennedy you're still the one."

Despite the Kerry campaign's admonition to convention speakers not to risk alienating undecided voters with red-meat attacks on the president, Kennedy unleashed what amounted to the latest in a string of flame-throwing verbal assaults on Bush. In recent months, for example, he has called the war in Iraq a fraud "made up in Texas," a political product "marketed" by the Bush administration to win elections and ultimately Bush's Vietnam.

"More than 900 of our service men and women have already paid the ultimate price," he said in his convention address, his voice at times cracking. "The administration has alienated longtime allies. Instead of making America more secure, they have made us less so."

Kennedy likened Bush to a "monarch named George who inherited the crown" — drawing laughs. And, invoking the memory of Democratic icon Franklin D. Roosevelt, he told the crowd: "The only thing we have to fear is four more years of George W. Bush."

John Kerry, he said, "is the right man for every tough task and he is the right leader for this time in history."

Kennedy, 72, has been one of the driving forces behind the candidacy of his fellow Massachusetts senator. When Kerry's campaign was foundering, Kennedy sent some of his staff to the rescue and has been a vigorous fund-raiser and booster.

"He has said this is the most important election in his lifetime, and that's compared to 1960, 1968 and 1980," said Kennedy's son Patrick, a congressman from Rhode Island. "This convention is historical — being where it is, at the time it is. This is a great tribute to my dad."

In 1960, Democrats gave the presidential nod to his brother, John F. Kennedy. In the tormented 1968 election year, his brother Robert Kennedy was gunned down by an assassin while campaigning for the presidency. And in 1980, 18 years after he was first elected to the Senate, Ted Kennedy finally closed the door on a presidency of his own.

That year, after losing the party's presidential nod to Jimmy Carter, Kennedy set off a raucous 40-minute demonstration after his convention speech that lives on for its signature line, "For all those whose cares have been our concern, the work goes on, the cause endures, the hope still lives and the dream shall never die."

After his speech, Kennedy and 1,800 family members, friends and supporters were heading to a star-studded, invitation-only tribute at Symphony Hall honoring his more than four decades of public service. Headliners for the salute include U2's Bono, composer and former Boston Pops conductor John Williams and cellist Yo-Yo Ma.




Today's Top News
Top World News

Annan applauds China's role in United Nations




Talks ongoing to free kidnapped Chinese




WHO report highlights traffic safety in China




China issue rules on overseas investment




Assessing status of nation's health




Bus crash kills 21 in Southwest China