US charity charged with funding Hamas
(Agencies)
Updated: 2004-07-28 09:34
A major American Muslim charity and seven of its senior officers were charged Tuesday with illegally funneling millions of dollars to support Hamas, a Palestinian terrorist organization blamed for dozens of deadly suicide bomber attacks in Israel.
A 42-count grand jury indictment unsealed in Dallas alleges the Holy Land Foundation for Relief and Development used its tax-exempt status to masquerade as a legitimate charity while most of its money was going to individuals and organizations linked to Hamas.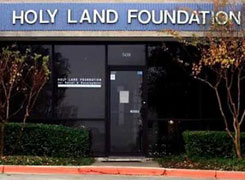 The offices of the Muslim charity is seen in Richardson, Texas December 4, 2001. [Reuters]

Holy Land specifically targeted for assistance orphans and families whose relatives had been killed or jailed as a result of Hamas' campaign of violence against Israel, the indictment said. Hamas is on the US State Department's list of foreign terrorist organizations and is described as using violence to try to create an Islamic Palestinian state.

"The defendants effectively rewarded past, and encouraged future, suicide bombings and terrorist activities on behalf of Hamas," US Attorney General John Ashcroft said.

Ashcroft said Holy Land and its members had illegally sent overseas about $12.4 million since 1995 to support Hamas. The charity's assets were frozen by the US government in December 2001.

The indictment names the foundation along with its president, Shukri Abu Baker; chairman, Ghassan Elashi; executive director, Haitham Maghawri; and four others. The charges include providing material support to a foreign terrorist organization, conspiracy, money laundering and filing false tax returns.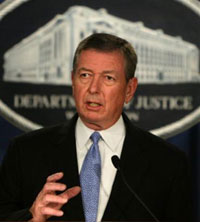 US Attorney General John Ashcroft speaks at a news conference announcing the indictment against the Holy Land Foundation for Relief and Development Tuesday, July 27, 2004, in Washington. [AP]

Five of the seven defendants were arrested. Two of them, Maghawri and Akram Mishal, are not in the United States and are being pursued as fugitives. All face lengthy prison sentences if convicted.

Holy Land lawyer John Boyd declined to comment other than to say that some of the transactions may have occurred in the late 1980s, before Hamas was designated as a terrorist group and such donations to it were illegal.

Holy Land, which calls itself the largest U.S.-based Muslim charity, had its main office in Richardson, Texas, with other offices in New Jersey, California, Illinois, Jerusalem, the West Bank and Gaza.

Holy Land and its officers have adamantly denied connections to terrorism, contending they provide much-needed assistance in Palestinian areas and other Islamic countries for such things as medical clinics, schools, orphans and needy families. On Monday, Holy Land filed a complaint with the Justice Department's inspector general claiming that the FBI fabricated evidence against it.

In Damascus, Syria, a Hamas official denied a connection to Holy Land.

"Hamas did not take any penny from the Holy Land Foundation," Moussa Abu Marzouk, a member of the group's political bureau, told The Associated Press. "Hamas has its own means of funding and that is not connected to any institution in the West."

According to the indictment, Holy Land's main officers met with other Hamas activists in October 1993 to figure out how to back Hamas and also conceal their true aims from authorities.

"The attendees noted the danger of attracting the terrorist perception, which would undoubtedly compromise their efforts in supporting violent jihad (Muslim holy war)," the indictment said.

Fund-raising events were held at mosques, conventions, seminars and other programs in which speakers, including some of the Holy Land defendants, "performed skits and songs which advocated the destruction of the state of Israel and glorified the killing of Jewish people," the indictment says.

Although the government first took action against Holy Land in late 2001, Ashcroft said it took a long time to bring criminal charges because of the complexity of the financial information involved and because prosecutors had to deal with officials in several foreign countries.

Ashcroft said the anti-terrorism Patriot Act, passed in the weeks after the Sept. 11 attacks, was key to the case because prosecutors gained access to sensitive intelligence information that had been previously unavailable in criminal matters. Some evidence was gained through electronic surveillance under court orders from the secret Foreign Intelligence Surveillance Court, he added.

Since the Sept. 11 attacks, the U.S. government has identified 383 individuals and groups believed to have helped finance or otherwise support terrorist activities, leading to the freezing of roughly $141 million linked to al-Qaida and other terrorists worldwide. Of that, more than $37 million has been frozen in the United States.




Today's Top News
Top World News

Foreigners encouraged to invest in West China




Chinese-American faces trial for spying




Japanese-left bombs injure Jilin boys




Explosion shakes Chinese embassy in Kabul




Disasters claim lives, do damage to farmland




Disease-free zones key to animal husbandry