Dutchman Haan brings 'total football' to China
(Agencies)
Updated: 2004-07-28 06:15
Arie Haan has brought the Dutch philosophy of "total football" to China.
The China coach, a member of the great Dutch team of the 1970s that lost two World Cup finals, was in a buoyant mood after the hosts reached the Asian Cup quarter-finals at the weekend.
"Whoever we play next, of course we can beat anyone," he said after China overcame Qatar 1-0 in Beijing to finish atop of Group A.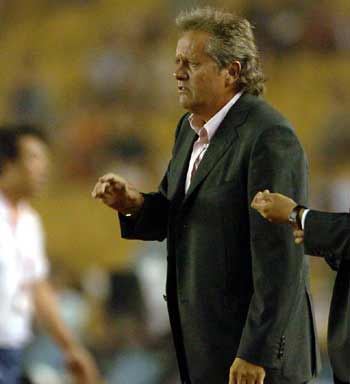 Arie Haan gave instructions before the opening match of Asian Cup in Beijing July 17, 2004. [Xinhua/file]


"We will be prepared to take care of whoever we play. Most of all, if China play well we move on."

Qatar coach Saeed Al Mesned paid rich tribute to the Chinese.

"It was a pleasure to play against China," said Mesned, who took over as coach earlier in the tournament after Qatar sacked Frenchman Philippe Troussier.

"China play the Dutch way - simple, but wonderful to watch. They use both wings and you get the feeling they can score at any time.

"We have a young, inexperienced team and it was good for my players to learn from China."

China lost all three matches and failed to score a goal in their first World Cup appearance under Yugoslav Bora Milutinovic.

Efficient China

But Haan has created a more efficient team, less ponderous in attack and more difficult to break down.

Reputations count for little with Haan, who has left Manchester City full-back Sun Jihai on the bench for most of the tournament, prompting a public tantrum from the player's father.

However, Haan's methods are beginning to pay off. China have won all three of their 2006 World Cup qualifiers to date and cruised into the last eight of the Asian Cup, thrashing Indonesia 5-0 after a 2-2 draw with Bahrain in their opener.

They are among the favourites to win their first Asian Cup title, with South Korea and holders Japan fielding depleted squads for the 16-team competition.

"We deserve to be first in the group," said Haan, whose team play the Group C runners-up in the quarter-finals on Friday.

"China is a hard-working team and the players were a little tired against Qatar. But we just have to keep working - and we need a little luck."




Today's Top News
Top Sports News

Opinion: China policy volatile in US election




Chinese-American faces trial for spying




China shuts down 700 porn websites




Boomtowns change path of China's growth




Japanese-left bombs injure Jilin boys




Explosion shakes Chinese embassy in Kabul