Japanese-left bombs injure Jilin boys
By Cao Desheng (China Daily)
Updated: 2004-07-28 01:20
Two school boys in northeastern China were injured by toxic chemical weapons abandoned in China by the Japanese forces during World War II.
Liu Hao, 9, a native of Lianhuapao Village in Dunhua, Jilin Province, suffered serious wounds on his fingers and right leg with chemical blisters.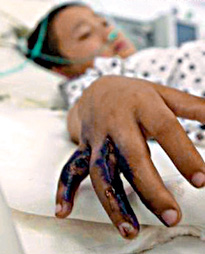 Liu Hao, 9, receives an intravenous drip at the Dunhua Municipal Hospital on July 27, 2004. Liu has blisters on his right leg and hand. He and three other boys found the bomb in a river when they were playing there on July 23, 2004. [newsphoto]

The other boy, the same age as Liu, suffered lesser injuries.

The children were sent to a local hospital for treatment.

Local police sealed up the toxic weapon and cordoned off the areas around Liu's village to prevent additional people from being injured by the weapons.

Liu and three other children uncovered the chemical weapons five days ago when they were playing near a river close to their village, Liu's grandmother told local media.

Out of curiosity, one of the boys pried open the rusted weapon and a liquid flowed out, the woman said.

Burnt by the orange liquid on his leg, the boy threw a 50-centimeter-long barrel on the ground and the splashing liquid flew onto his fingers and legs, injuring him, she said.

The two other boys fortunately escaped from the splashing liquid,according to the old woman.

Some 670,000 chemical weapons were dumped in Dunhua, the area in China with the most abandoned Japanese chemical weapons,according to a report in the Shanghai-based Oriental Outlook.

Earlier this month, two Japanese veterans in their 80s who served in the army during World War II went to Dunhua to identify the locations where they recalled burying toxic weapons.

Although no chemical weapons were discovered, they gave a general map revealing sites of discarded weapons, local media said.

Bu Ping, vice-president of the Heilongjiang Academy of Social Sciences and a researcher on chemical weapons left over by the Japanese troops in China, estimates Japanese troops left more than 2 million chemical weapons in dozens of Chinese cities and provinces at the end of world War II.

So far, some 2,000 Chinese have been reportedly victimized by abandoned chemical weapons in the post-war period.

A leak killed one person and injured 43 when barrels of mustard gas were dug up at a construction site in Qiqihar, Heilongjiang Province in northeastern China.

However, the Japanese Government has hesitated to compensate victims, using the excuse that inadequate data exists to prove cases in court.

On Saturday, the Japan Defence Agency published a historical document, stating that Japanese troops used toxic mustard gas as a chemical weapon when invading China during World War II, Japanese media reported.

The document said that a Japanese military official ordered his soldiers to use chemical weapons on key facilities when troops invaded Shanxi Province in North China on February 6, 1942, the Mainichi Shimbun reported.

Acting on the official's orders, Japanese special forces placed barrels of mustard gas at 10 locations in the specified areas, the report said.

Up to date, the Japanese government has denied using deadly chemical weapons such as mustard gas during World War II, though it has admitted using non-fatal chemical weapons.

The report urged the Japanese Government to carry out thorough investigations about the use of chemical weapons during world War II to prevent hazards from erupting.