China shows military muscle in weekend drill
By Tong Haihua (China Daily)
Updated: 2004-07-27 01:59
About 3,000 people took part in a two-day weekend military exercise off the southeastern coast amid increasing tensions with Taiwan, China News Service reported Monday.
Officers and soldiers of the People's Liberation Army (PLA), militia and paramilitary police participated in the drill, which concluded on Sunday in Zhangzhou, East China's Fujian Province.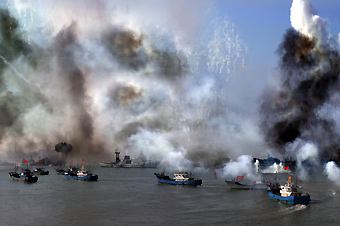 Ships and boats carrying personnel and equipment sail off braving gunfire from 'enemy forces' during a military drill on Saturday in the coast of Zhangzhou, East China's Fujian Province. [newsphoto]


On Saturday afternoon, the exercise started with the lift-off of three red signal flares and lasted for one and half hours, said the report.

Receiving orders, the defence mobilization committee of the city of Zhangzhou rapidly mobilized and organized the local citizens to enter a state of war.

The exercise focused on how to provide support to the PLA on the sea when the war broke out.

The report did not say at whom the exercise was aimed. However, the PLA and the Taiwan army are now both conducting military exercises.

Militia exercised how to transport weaponry and personnel as well as practise logistics support, telecommunications and supply of oil and water, according to the report.

Medical service as well as ship maintenance were part of the exercises, it added.

The weekend exercises also involved militia boats firing ground-to-air guided missiles, said the report.

The militia completed about 20 drill tasks.

Lieutenant General Zhu Wenquan, commander of the Nanjing Military Region, and Lu Zhangong, governor and acting Communist Party chief of Fujian Province, attended the exercises.

"People's war is the heirloom of our Party and our army. People's war is able to help us win fights in the future. People's war can help us finish the great cause of reunification," Zhu said.




Today's Top News
Top China News

Private business gets State support




Airline profits soar this year




Floods kill 11 in Liaoning




Beijing, Tianjin locked in water dispute




China shows military muscle in weekend drill




Heat wave hits East China cities