Man arrested for threat to hijack airliner
By Cao Zhe (China Daily)
Updated: 2004-07-27 01:43
An Air China plane had to disrupt its regular flight Monday morning from Beijing to Changsha in Central China due to a disturbed man's "hijack" threat.
The Boeing 737 plane made an emergency landing at the airport of Zhengzhou in Central China's Henan Province, where Yang Jinsong -- the so-called "hijacker" -- was arrested by local police.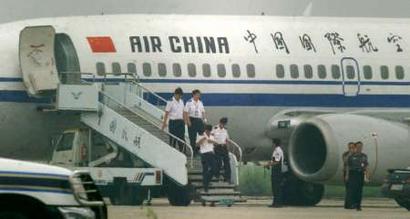 Crew members leave an Air China jet in the central Chinese city of Zhengzhou, after a would-be hijacker who tried to divert the plane to South Korea was arrested, July 26, 2004. A Chinese man with a history of mental illness tried to hijack the flight and it made an emergency landing in Zhengzhou. [Reuters]

The plane, carrying the tail number CA1343, landed safely at around 2:35 pm at its destination of Changsha, capital of southern Hunan Province, without incident.

The 128-seat jet carried 108 passengers, taking off at 8:40 am. It had been scheduled to land in Changsha at 10:30 am, according to a Beijing Capital International Airport official.

Yang, 32, is a librarian at Xiangtan University in Hunan Province and has a record of mental illness.

Around 50 minutes after the plane took off, Yang walked toward the forward compartment, claiming he wanted to hijack the plane, sources from General Administration of Civil Aviation of China (CAAC) said.

Yang said his companions had some sulfuric acid and would throw it on other passengers unless the plane headed for the Republic of Korea.

The plane then made an emergency landing in Zhengzhou airport at 9:50 am and a small team was formed immediately to handle the case.

Two plainclothes police officers were sent to negotiate with Yang in the plane, said Liu Guoqing, senior official with the Henan police.

Yang was captured at 10:20 am.

The police then examined the plane and other passengers but did not find any conspirators or sulfuric acid as Yang had claimed.

China saw a rash of hijackings in the early 1990s, and it later tightened air safety.

It took additional security measures after the September 11 attack on the United States, including putting air marshals on flights.

An air marshal force consisting of 2,000 policemen has been built up and will be sent to airlines to serve on flights soon, CAAC officials said.




Today's Top News
Top China News

Private business gets State support




Airline profits soar this year




HK to feature Bible show




Heat wave hits East China cities




China, Germany conduct military consultations




Floods kill 11 in Liaoning