All 15,000 tickets for PLA parade snapped up
By Gang Bian (China Daily HK Edition)
Updated: 2004-07-26 11:49
The 15,000 tickets that the Hong Kong Garrison of the People's Liberation Army (PLA) gave out to the public for its first military parade in the SAR were all grabbed within two hours yesterday morning.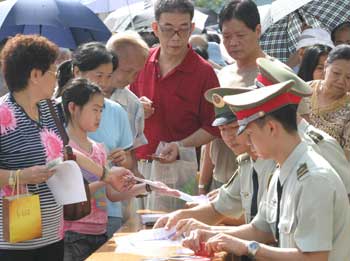 HK residents line up to get tickets for the PLA HK Garrison parade planned for August 1. [newsphoto]

The parade will be held at Shek Kong barracks on August 1 in celebration of the PLA's 77th anniversary.

The event attracted thousands of people to the three ticket-distribution outlets yesterday - the barracks at Tamar in Central, at Gun Club Hill in Jordan and at Shek Kong.

There were long queues outside the barracks early in the morning, well before the start of distribution.

"I arrived in the afternoon of the previous day," said an elderly man who was at the very front of the line in Central.

He said he failed to get a ticket the last time the PLA Hong Kong Garrison opened its barricks to Hong Kong citizens, on July 1, and was determined to get one this time.

Many considered it a rare opportunity to see the PLA soldiers in parade and hoped to know more about the garrison troops.

To alleviate the suffering of the crowd waiting outside the barracks under the hot weather, the garrison decided to start giving out the tickets earlier, before 8 am. All tickets at the three barracks were snapped up in about two hours.

Of the 15,000 tickets available to the public, 12,000 were for individuals and 3,000 for groups; and each person was allowed to collect three tickets at most.

Some of those who failed to get any ticket after waiting in line for hours were so upset that they had to be calmed down by police officers who were at the scene to maintain order.

More than 3,000 PLA personnel will participate in the military parade, which will feature infantry, armoured vehicles and helicopters. Wang Jitang, the garrison's commander-in-chief, will inspect the troops; and social and political leaders have been invited.




Today's Top News
Top China News

China's agricultural sector opening further




Details out on US officer beating of Chinese




Central bank to ensure 'soft landing'




Esperanto speakers gathering in Beijing




Migrant workers to get injury insurance




Hu stresses both national defense, economy