Saddam spends time gardening, eating muffins
(Agencies)
Updated: 2004-07-26 09:22
Former Iraqi President Saddam Hussein is passing his time in solitary confinement by reading the Koran, writing poetry, gardening and snacking on cookies and muffins, Britain's Guardian newspaper reported on Monday.
Iraq's human rights minister Bakhtiar Amin said Saddam's health was "generally good" but he was being treated for high blood pressure and had suffered a chronic prostate infection.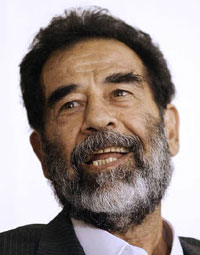 Saddam Hussein is seen in this July 1, 2004 file photo appearing before an Iraqi tribunal in Baghdad. [Reuters]

"One of the poems is about (U.S. President) George Bush, but I had no time to read it," said Amin, a Kurd originally from Kirkuk, who had spent much of his life in exile in Europe and the United States.

"He is looking after a few bushes and shrubs and has even placed a circle of white stones around a small plum tree," he added.

Amin said he had met Saddam's half brother Barzan al-Tikriti who had tried to persuade him that he was not like Saddam's other strongmen captured by U.S.-led forces.

"There before me were the men responsible for the industrial pain of Iraq -- mass murderers who were responsible for turning Iraq into a land of mass graves," he said, adding that they would all receive fair trials.

Barzan, a former ambassador to the United Nations in Geneva and reputedly Saddam's "banker in the West," has denied allegations that he was involved in war crimes against Iraqi Kurds in the 1980s.

"I tried to control my emotions," Amin said of his meeting with Barzan. "But to be honest I wanted to vomit."




Today's Top News
Top World News

China's agricultural sector opening further




Details out on US officer beating of Chinese




Central bank to ensure 'soft landing'




Esperanto speakers gathering in Beijing




Migrant workers to get injury insurance




Hu stresses both national defense, economy