Israelis form human chain across Gaza
(Agencies)
Updated: 2004-07-26 09:05
Israelis formed a human chain stretching 55 miles from Gaza to Jerusalem to protest Prime Minister Ariel Sharon's Gaza Strip withdrawal plan, as violence left six Palestinian militants dead and five Israeli children wounded.
The children, housed at a community center, were injured when Palestinians fired mortars at the largest Gaza settlement, Neve Dekalim, according to rescue services and the military. The settlement is a frequent target of Palestinian rifle and mortar fire. The attack occurred as demonstrators were heading home.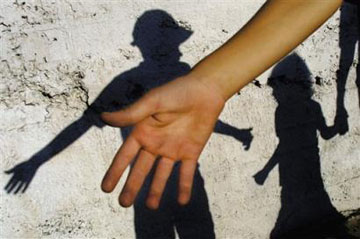 Israelis stand on the road on the outskirts of Jerusalem, July 25, 2004. From Gaza to Jerusalem, tens of thousands of Israelis linked hands Sunday in a human chain in a massive protest against Prime Minister Ariel Sharon plan to dismantle the Jewish settlements and withdraw the army from the Gaza Strip. [AP]


Israeli helicopters targeted a house in Gaza City in two separate missile strikes Sunday, witnesses said. One bystander was slightly injured in the missile blasts, the witnesses said. The Israeli military had no comment.

Also, Israeli forces killed six Palestinians in the West Bank town of Tulkarem. Israel Army Radio said they were members of the Al Aqsa Martyrs Brigades, loosely linked to Yasser Arafat's Fatah movement.

It was the bloodiest clash in the West Bank in a month. On June 26, Israeli forces ambushed Palestinian militants holed up in a tunnel in Nablus, killing seven.

Organizers of the human chain said they expected up to 150,000 Israelis to take part, about the same number as participated in a pro-withdrawal demonstration in Tel Aviv two months ago. Turnout appeared to be near expectations, with few gaps in the chain.

Israel Army Radio quoted police officials as estimating 70,000 people actually took part. Israel TV's Channel Two gave an estimate of 130,000.

The chain began at Nissanit, a settlement in northern Gaza, and stretched 55 miles along roads and highways to Jerusalem's Western Wall. Hundreds of rented buses carried people to various points along the route, and bullhorns signaled demonstrators to join hands.

"We came here to protest the program of expelling Jews from their land," said Avraham Yitzhaki, 54, from the Gaza settlement of Ganei Tal.

In Jerusalem's Old City, religious Jews prayed at Judaism's holiest shrine, then danced, clapped and sang patriotic songs before clasping hands.

Thousands of police officers patrolled the route, directed snarled traffic and tried to prevent any disturbances.

Sharon announced in December that he planned to withdraw from the Gaza Strip and four West Bank settlements by the end of September 2005. The plan drew such fierce opposition from hard-liners that he fired two critics in his own Cabinet, forcing him to search for a new governing coalition.

The decision also infuriated Jewish settlers who saw Sharon as their champion through decades of political fighting over building and expanding settlements in territories seized from Jordan, Egypt and Syria in the 1967 Mideast war.

"The government of Israel should not be displacing its own people," said Adina Giventer, who came to demonstrate from Haifa in northern Israel.

Many Israelis say the settlements reinforce Israel's claim to lands that are the birthright of the Jewish people. About 240,000 Jews live among 3.5 million Palestinians in Gaza and the West Bank.

Other Israelis believe relinquishing the settlements is a precondition for reaching peace with the Palestinians. Polls show a majority in favor of Sharon's plan to abandon the Gaza Strip, which has less historical significance than the West Bank.

The human chain took months to organize. Volunteers enlisted on a Web site that sliced the route into seven segments. People were told which area they should travel to, based on the location of their home or workplace.

"We have a flood of people asking to take part in the chain. The numbers are much, much more than we expected," organizer Zevulon Halfon said. "Spreading out this force in such a short time really requires massive control."

The first person on the chain in Nissanit was Shamir Yitzhak, who was evacuated from the Gaza Strip when Egypt captured the area in the first Arab-Israeli war in 1948.

Six-year-old Yael Better, Yitzhak's granddaughter, marked the last link of the chain, placing her hand on the ancient stones of the Western Wall while more than 2,000 people in the courtyard sang the national anthem.

"I don't know if it will have any influence. But we at least want to show the government that this can't be given up easily," said Mordechai Better, Yael's father. "It's not something that can be removed in a minute. There are three generations here."

Also Sunday, in Gaza City, Israeli helicopters destroyed a two-story house in a crowded residential district. The army said the building housed a weapons workshop run by the Hamas militant organization.

Palestinian security officials said the house in the Zeitoun neighborhood was empty at the time of the strike. Two people, apparently passers-by, were taken to Gaza hospital with minor injuries, and two others were treated at the scene.

Also, Israeli troops expanded an operation near Beit Hanoun in the northern Gaza Strip, effectively taking over the entire town in an effort to prevent the firing of rockets on nearby Israeli areas.




Today's Top News
Top World News

China's agricultural sector opening further




Details out on US officer beating of Chinese




Central bank to ensure 'soft landing'




Esperanto speakers gathering in Beijing




Migrant workers to get injury insurance




Hu stresses both national defense, economy