US Democrats all smiles ahead of convention
(Agencies)
Updated: 2004-07-26 08:56
U.S. Democrats kicked off the first unofficial event of the convention --the almighty news conference -- with self-congratulatory talk from each of the events major players.
"I just simply want to say this is the most unified convention the Democratic Party has ever had," New Mexico Gov. Bill Richardson, the convention's permanent chair, told reporters Sunday.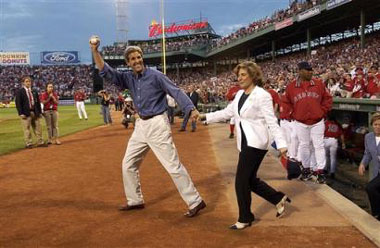 US Democratic presidential candidate Sen. John Kerry, D-Mass., arrives on field with his wife Teresa Heinz Kerry at Fenway Park to throw out the first pitch at the Boston Red Sox New York Yankees game in Boston, July 25, 2004. Kerry was supposed to fly from Ohio to Florida for a campaign stop, but announced to journalists on the plane after takeoff that they were going to Boston instead. [AP]



"This is really a defining moment for America, a defining moment for the Democratic Party," said Democratic National Committee Chairman Terry McAuliffe.

"This convention presents us with a tremendous opportunity for our party, an opportunity to talk about the issues that we need to talk about to make this party shine," he said. "We're excited about what's going to go on here."

With initial events going off according to schedule -- a successful party Saturday night, the majority of the some 4,000 delegates settled into hotels across Boston and the labor crisis resolved with the city's police and firefighters -- Democratic officials could be expected to pat themselves on the back.

The convention they described would be positive in tone, rallying the party around the ticket of Sens. John Kerry, D-Mass., and John Edwards, D-N.C.

"I think that everybody knows that we have such a great a candidate here and such a great ticket that I think all Democrats are focused on just touting the virtues of those candidates," said Kerry spokeswoman Stephanie Cutter.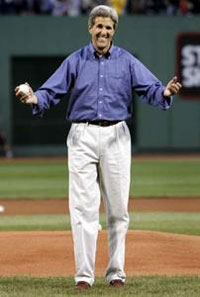 US Democratic presidential candidate John Kerry prepares to throw out the first pitch at Fenway Park in Boston, July 25, 2004. Kerry and running mate John Edwards will be formally anointed next week at the Democratic convention in Boston as the party's challengers to President George W. Bush and Vice President Dick Cheney in the November 2 election. [Reuters]

By the end of the convention, Richardson said, Democrats would demonstrate Kerry was a "proven, tested leader."

The party would not fall back on the easy rallying point of President Bush's failures as president, party leaders said, despite the mileage the issue has given the party among an electorate increasingly disillusioned with Bush's explanations.

Instead, Richardson said, "We're focusing on the issues to demonstrate that Senator Kerry and Senator Edwards are men of strength, of character -- a ticket that can show America that Democrats are ready to govern."

Unity was the word of the day. "There are no disputes among the candidates; there is unanimous support for Sen. Kerry, (and) there are few platform debates," Richardson said. The convention "has generated more volunteers and more enthusiasm than any convention we've ever had."

"We have come into this delegation with our party in the best shape we've ever been in," McAuliffe said. "We are more energized, more unified than we've ever been heading into a convention; it is an exciting time for all of us."

Not only was the party unified, the convention also reflected its diversity, said convention chairwoman Alice Huffman. Forty percent of delegates are minorities and more than half are women, the party pointed out.

"Our diversity is not rhetoric," Huffman said, noting minorities such as herself and Richardson in major leadership roles.

The party was offering four days of training sessions for different communities within the delegate population, including the first Monday, for women.

"We want to make sure while everybody's here they have a great time and hear great speeches," McAuliffe said, "but most importantly when everybody leaves this convention, they are going to leave here with assignments to do something to make sure John Kerry and John Edwards are elected this November 2nd."

Cutter provided little information on Kerry's acceptance speech Thursday night. She said Kerry, who is taking part in campaign events until his appearance Thursday, likely would work on the speech during any free moments, but refused to talk extensively regarding the speech's content.

The convention itself would lay out specific plans all week based on thematic plans each of the four days, said convention committee communications czar Peggy Wilhide. Cutter added she thought Kerry already had outlined his specific policy plans.

"I think that is pretty clear. We've already passed the test," she said. "Now there are things the American people want to get to know about (Kerry) as a person.




Today's Top News
Top World News

China's agricultural sector opening further




Details out on US officer beating of Chinese




Central bank to ensure 'soft landing'




Esperanto speakers gathering in Beijing




Migrant workers to get injury insurance




Hu stresses both national defense, economy