Hopes raised for release of seven hostages in Iraq
(Agencies)
Updated: 2004-07-26 08:50
A Kuwaiti company said on Sunday it had received assurances that seven of its employees being held hostage by militants in Iraq would be freed.
The kidnappers of the seven truckers -- three Indians, three Kenyans and an Egyptian -- were reported by Al Arabiya television to have appointed a senior tribal leader to mediate after having threatened last week to behead the captives.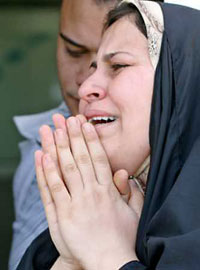 An Iraqi wife weeps after losing her husband during clashes between US forces and insurgents near the city of Baquba, July 25, 2004. Iraqi security forces killed 15 insurgents during heavy clashes on Sunday, the US military said. [Reuters]

The seven were seized as militants bent on undermining U.S.-led forces and Iraq's new interim government stepped up a campaign of hostage-taking to press demands that foreign troops and foreign companies leave the country.

In the latest violence, Iraq's fledgling forces killed 13 suspected guerrillas near Baghdad in one of the fiercest battles they have faced since the interim administration took over from U.S.-led occupying authorities on June 28.

The Kuwait and Gulf Link Transport Company said in a statement it was negotiating with the Black Banners group of militants through what it called some Iraqi friends to secure the release of the seven hostages.

"There are promises and assurances (the hostages will be freed), especially after the kidnappers became certain that we have no presence in Iraq and we were just conducting transportation for the interest of some Iraqis," the firm said.

TRIBAL LEADER MEDIATES

Dubai-based Al Arabiya quoted the Black Banners group as saying it had "appointed Sheikh Hisham al-Dulaymi, head of the National Group of Iraqi Tribal Leaders, to negotiate with the embassies of the hostages and the Kuwaiti firm."

The group has demanded the company should pay compensation to families of the dead in Falluja and that Iraqi prisoners in U.S. and Kuwaiti jails should be released.

Indian Foreign Minister Natwar Singh appealed in a statement to Al Arabiya for the release of the hostages.

"The Indian minister said ... his country refuses to send troops to Iraq out of respect for Iraq's solidarity and the feelings of the Iraqi people," Al Arabiya reported.

Dozens of foreigners have been seized in a wave of hostage-taking that has hit Iraq since April. Some have been freed, but at least six have been killed by their captors, four of them by beheading.

The Philippines withdrew its troops from Iraq this month to spare the life of a Filipino hostage. It joined Spain, the Dominican Republic, Nicaragua and Honduras as countries that have pulled out of what once was a 34-nation U.S.-led coalition.

Washington and interim Iraqi Prime Minister Iyad Allawi have urged governments not to bow to kidnappers' demands.

Pakistan said it believed two of its nationals missing in Iraq had been kidnapped, and a daughter of one of the men made an emotional plea for her father Raja Khan's release.

TEARFUL APPEAL

"I miss my father very much. I urge the Pakistani government and Iraqi people to help find my father," said Nazia, 21, tears rolling down her face.

The two, an engineer and a driver believed to be working for the Kuwaiti-based al-Tamimi company, disappeared on Friday.

In the fighting near Baghdad, Iraqi police and National Guard members were attacked by mortar fire and rocket-propelled grenades as they provided cover to U.S. forces conducting raids.

U.S. warplanes patrolled the skies near the town of Buhriz, 35 miles north of Baghdad, and U.S. artillery opened fire to suppress the guerrillas' mortar positions, said Major Neal O'Brien of the U.S. 1st Infantry Division.

Reuters television pictures showed buildings blackened by fire and pockmarked with bullet and artillery round holes.

Inside one house, a family wept over the open coffin of a dead man.

Outside, a number of armed men, their faces wrapped in checked scarves and wearing white robes, fired weapons into the air and shouted "Down with Allawi, down with America."

U.S. TROOPS VITAL TO SECURITY

Allawi's government is heavily reliant on some 160,000 mostly U.S. foreign troops for security while it builds up its own forces.

Interim Foreign Minister Hoshiyar Zebari accused regional satellite television channels of inciting violence and hinted Iraq might stop Al Jazeera operating in the country.

"There is strong talk from some Iraqi government officials about closing Al Jazeera. Unfortunately it is being manipulated by terrorist groups and we will not tolerate this biased coverage," Zebari told Al Jazeera.

Al Jazeera, which gained popularity among Arab viewers for its graphic coverage of the U.S.-led war that ousted Saddam Hussein, denounced the charges.




Today's Top News
Top World News

China's agricultural sector opening further




Details out on US officer beating of Chinese




Central bank to ensure 'soft landing'




Esperanto speakers gathering in Beijing




Migrant workers to get injury insurance




Hu stresses both national defense, economy