Boston rolls out $60 million security plan
(Agencies)
Updated: 2004-07-26 08:46
As the U.S. Democratic National Convention opens Monday, the city of Boston will be under an unprecedented $60 million security curtain, CNN reported.
U.S. Federal agents have inspected manholes, welding them shut for safety.
Mailboxes and most trash cans have been removed from businesses around the FleetCenter, where more than 4,300 delegates and 15,000 members of the media will gather for four days.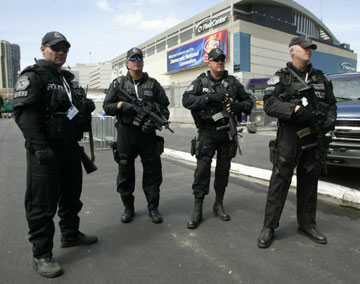 Boston Special Weapons and Tactics police (SWAT) stand guard outside the Democratic National Convention at the FleetCenter in Boston, July 25, 2004. Final preparations are being made in the hall before the July 26 start of the convention, where Democratic candidate John Kerry will formally accept his party's nomination. [Reuters]


Interstate 93, the main highway on which traffic flows in and out of the city, will be closed during convention hours because it passes within 10 feet of the convention site. About 40 miles of roads will be closed in total.

Logan International Airport will restrict flights to certain planes. The Coast Guard is watching the waterways to hunt for out-of-place boaters.

And according to Boston Police Commissioner Kathleen O'Toole, the Boston police are using new speedboats, "capable of heading off threatening vessels at speeds up to 70 miles per hour."

Boston, amid complaints from civil liberties groups, became the first city in the nation to randomly search passengers and check their identification. The searches will be done by specially trained civilian volunteers in coordination with the Secret Service.

The intense security has been planned for months but has taken on additional importance in the past two days.

On Friday, law enforcement sources warned members of the media to prepare for a possible disruption by domestic anarchist groups.

The warning said a "credible" threat indicates that media vans could be targets.

In addition, a senior CIA official told CNN that a specific piece of information, not chatter, indicates that al Qaeda wants to attack the United States.

Boston Mayor Thomas Menino has promised that every possible preparation is in place.

"The people of Boston can feel assured knowing that our city is more secure than ever," Menino said.

The security plan has not come without a cost, however.

At first, Boston planned to spend $10 million for security. In 2003, Congress added $50 million for security to be split between Boston and New York, where the Republicans will meet in late August.

Earlier this year, Menino and New York Mayor Michael Bloomberg each requested an additional $25 million, bringing Boston's total to $60 million.

Ed Flynn, Massachusetts security secretary, said the city is prepared.

"We've worked hard to call upon all of our available assets, from the Boston police, the MBTA police, the state police, federal agencies, area police departments, regional planning groups," he said.




Today's Top News
Top World News

China's agricultural sector opening further




Details out on US officer beating of Chinese




Central bank to ensure 'soft landing'




Esperanto speakers gathering in Beijing




Migrant workers to get injury insurance




Hu stresses both national defense, economy