Bush leads Kerry in US electoral votes
(Agencies)
Updated: 2004-07-25 09:45
John Kerry narrowly trails US President Bush in the battle for the 270 electoral votes needed to win the White House, as he makes his case at the Democratic National Convention this week to topple the Republican incumbent.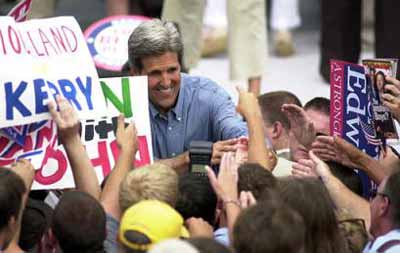 Democratic presidential candidate Sen. John Kerry greets supporters, Saturday July 24, 2004, after a speech in Souix City, Iowa. [AP]


With three months remaining in a volatile campaign, Kerry has 14 states and the District of Columbia in his column for 193 electoral votes. Bush has 25 states for 217 votes, according to an Associated Press analysis of state polls as well as interviews with strategists across the country.

"It's a tough, tough map. I think it's going to be a close race," said Democratic strategist Tad Devine, who helped plot Al Gore's state-by-state strategy in 2000 and plays the same role for Kerry.

"But looking back four years, we're much stronger now. I think we're going into this convention in great shape," he said.

Both candidates are short of the magic 270 electoral votes. The margin of victory will come from:

_TOSSUPS — Bush and Kerry are running even in 11 states with a combined 128 electoral votes. Florida, Ohio, Iowa, Nevada, New Hampshire, New Mexico, Wisconsin, Michigan and West Virginia are the toughest battlegrounds. Two other tossups, Pennsylvania and Oregon, could soon move to Kerry's column.

_LEAN KERRY — Maine, Minnesota and Washington (a combined 25 electoral votes) favor Kerry over Bush by a few percentage points. Gore carried them in 2000.

_LEAN BUSH — North Carolina, Colorado, Louisiana, Arizona, Virginia, Arkansas and Missouri (a combined 73 electoral votes) give Bush modest leads. He won all seven in 2000.

All total, 21 states are in play. Some will bounce between "lean" to "tossup" throughout the campaign.




Today's Top News
Top World News

President Hu stresses both national defense, economy




U.S. officer arrested for beating a Chinese




Bush leads Kerry in US electoral votes




Official killed by suicide bombing in Sichuan




More bonus planned for Olympic winners




Silk market, should it stay or should it go?