Paris Hilton, singer Nick Carter end romance
(Agencies)
Updated: 2004-07-25 09:30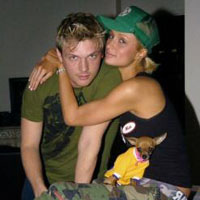 Backstreet Boys member Nick Carter poses with Paris Hilton and her dog, Tinkerbell, wearing a Kobe Bryant jersey, after she presented him with a birthday cake with her picture on it, January 28, 2004, at the Backstreet Boys' recording studio in Los Angeles.

Hotel heiress and reality television star Paris Hilton and recording artist Nick Carter have ended their seven-month romance, their publicists said on Friday.

Hilton's spokeswoman described the breakup as amicable, adding that the celebrity socialite is "busy focusing on her career" in entertainment.

In a statement from his own publicist, Carter, a member of the Backstreet Boys, said, "I want to be free to date other people, and I got tired of the rumors surrounding our relationship and the constant on and off status."

The statement said Carter went out and celebrated with his manager and friends on Thursday night "immediately after the breakup took place."

"This is the prime of my life, I'm back in the studio with the guys (Backstreet Boys) and about to go on tour," Carter said. Their tour is set to begin overseas in September, with a new album due out in the fall.

Hilton, co-star of the Fox television hit "The Simple Life" is recording her first album and recently finished work on her feature film debut, a remake of the horror classic "House of Wax," which is due out early next year, her spokeswoman said. She is slated to start shooting her next film, the sorority spoof "Pledge This!" next month.

Hilton recently made an altogether different kind of debut with the commercial release of a home video, previously circulated on the Internet, showing her having sex with ex-boyfriend Rick Salomon.

Hilton, 23, and Carter, 24, began dating in December after they met at a music awards show, her spokeswoman said.




| | |
| --- | --- |
| | |
| 2004 Miss Intercontinental crowned | |

| | |
| --- | --- |
| | |
| Swimwear for Athens Olympics debuts | |

| | |
| --- | --- |
| | |
| People cool off in water | |
Today's Top News
Top Life News

China's agricultural sector opening further




Details out on US officer beating of Chinese




Central bank to ensure 'soft landing'




Esperanto speakers gathering in Beijing




Migrant workers to get injury insurance




Hu stresses both national defense, economy