Egyptian FM calls for release of hostages in Iraq
(Xinhua)
Updated: 2004-07-25 08:58
Egyptian Foreign Minister Ahmed Abul Gheit on Saturday urged those who kidnapped an Egyptian diplomat and a truck driver in Iraq to be merciful and set them free.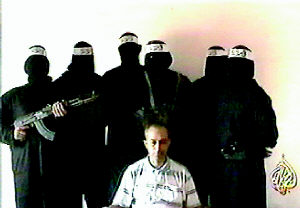 The Egyptian diplomat, identified as Mohammed Mamdouh Helmi Qutb, held hostage at the Egyptian Embassy in Baghdad, Iraq. Mohammed Mamdouh Helmi Qutb was shown seated in front of six masked kidnappers in a video broadcast Friday July 23, 2004 on the Al-Jazeera television station. The group, which called itself the Lions of Allah Brigade, said it had abducted him because the Egyptian government had said it was prepared to deploy security experts to help the interim government in Iraq.


"I hope that the kidnappers will have mercy and free the Egyptian diplomat and citizen, so that they can return to their work in the service of the Egyptian and Iraqi people," Gheit told reporters.

He said that efforts had been made to secure the release of the two hostages.

"We will never leave Egyptian citizens in this situation," the foreign minister said.

The kidnapped Egyptian diplomat was identified as Mohamed Mamdouh Qutb, the third most senior official at the Egyptian Embassy in Baghdad.
On Friday, Qatar-based al-Jazeera TV channel aired a footage which showed

Qutb sitting in front of six masked men in black.

The militants claimed that they seized the diplomat in revenge for Egyptian Prime Minister Ahmed Nazef's remarks that Egypt is ready to offer its security experience to the interim Iraqi government, al-Jazeera said.

Also on Friday, an Iraqi group which abducted seven foreign hostages issued a new 48-hour deadline to the captives'Kuwaiti employer.

The hostages, including three Indians, three Kenyans and an Egyptian, worked for the Kuwait and Gulf Link Transport Company.

The group calling itself the Black Flags had on Wednesday threatened to behead them if the Kuwaiti firm for which they worked does not pull out of the country.

It also demanded that India, Kenya and Egypt withdraw their personnel from Iraq, vowing to behead one hostage every three days if its demands are not met.

On Monday, Alsayeid Mohammed Alsayeid Algarabawi, an Egyptian truck driver working for a Saudi company, was released by the so- called the Iraqi Legitimate Resistance after the company agreed to end its business in Iraq.

Last month, another Egyptian driver, Victor Tawfiq Gerges, was released after being held hostage by militant groups in Iraq for more than two weeks.

Egypt has advised its citizens to stop seeking work in Iraq.




Today's Top News
Top World News

President Hu stresses both national defense, economy




U.S. officer arrested for beating a Chinese




Al Qaida threatens to attack Australia, Italy




Russia again refuses Iraq troop request




Official killed by suicide bombing in Sichuan




Chinese citizen found dead at Moscow market