Russia again refuses Iraq troop request
(Agencies)
Updated: 2004-07-25 00:20
Iraqi Foreign Minister Hoshyar Zebari said on Saturday that Baghdad would like to have Russian peacekeepers, but the Kremlin restated its refusal to become involved in the messy conflict.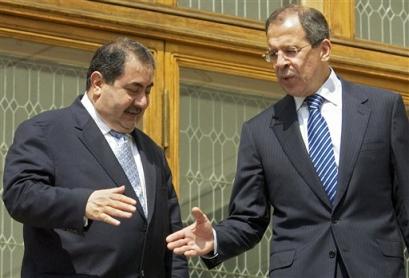 Iraqi Foreign Minister Hoshyar Zebari, left, and his Russian counterpart Sergey Lavrov shake hands while meeting in Moscow, Saturday, July 24, 2004. Zebari arrived in Moscow Saturday for talks expected to focus on Russian companies' participation in efforts to rebuild Iraq. [AP]

"We need Russian peacekeepers," Zebari said, according to the Interfax news agency.

But Russia's Foreign Minister Sergey Lavrov said Moscow had no intention of becoming involved.

"This issue wasn't looked into," Lavrov said at a news conference. "There are no such plans."

Lavrov said that Russia was willing to contribute to by considering a restructuring of its multibillion dollar debt through the Paris Club of creditor nations and offering economic assistance and personnel training.

"Such contribution would be no less significant than that by the participants in the multinational forces," Lavrov said at a news conference.

President Vladimir Putin said last year that Russia in principle would be willing to write off more than half of Iraq's $8 billion debt to Moscow.

Throughout this week, Russian diplomats were busy dismissing recent speculation that Russia would contribute troops in exchange for U.S. assurances that Russian companies could regain lost ground in Iraq.

Foreign Ministry spokesman Alexander Yakovenko said this week that Russia continues to believe that the U.S. invasion of Iraq was a mistake and that no possible incentives could persuade the Kremlin to send soldiers to Iraq.

Russia recently evacuated hundreds of energy workers from Iraq, where they were rebuilding power stations, after several abductions and other attacks. Russian officials said they could only return to Iraq after security situation had stabilized.

"We very much want Russian energy companies to return to Iraq to continue building four power generating facilities," Zebari said Saturday, according to Interfax. "Of course, we understand that a secure environment needs to be created."

The visit, in which Zebari also was to meet with Security Council head Igor Ivanov, was the first trip to Moscow by a senior Iraqi official since the U.S. returned sovereignty to Baghdad late last month.




Today's Top News
Top World News

Rail sector to receive private funds




Landmark pact expands airline routes with US




Law taking on money laundering in works




US advised arms sales to Taiwan harms ties




Babies in tote bags lead to gang arrests




Cloud seeding helps alleviate drought