Wave of kidnappings in Iraq continues
(Agencies)
Updated: 2004-07-25 00:08
Gunmen kidnapped the head of an Iraqi government-owned construction company in Baghdad on Saturday, a brazen daylight attack in a new wave of hostage-taking across the country.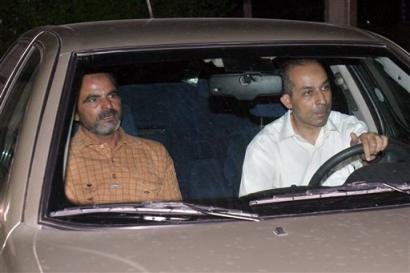 The diplomat, identified as Mohammed Mamdouh Helmi Qutb, right, alongside Alsayeid Mohammed Alsayeid Algarabawi, left, an Egyptian truck driver held hostage for two weeks, arrives at the Egyptian Embassy in Baghdad, Iraq, after Alsayeid's release Monday, July 19, 2004. Mohammed Mamdouh Helmi Qutb was shown seated in front of six masked kidnappers in a video broadcast Friday July 23, 2004 on the Al-Jazeera television station. The group, which called itself the Lions of Allah Brigade, said it had abducted him because the Egyptian government had said it was prepared to deploy security experts to help the interim government in Iraq. [AP]

The kidnapping occurred a day after a senior Egyptian diplomat was snatched as he came out of a mosque, and suggested insurgents were growing bolder, particularly since kidnappers scored a stunning victory by forcing the Philippines to withdraw troops to save the life of a Filipino truck driver.

In other violence, a U.S. Marine died early Saturday of wounds sustained Friday during clashes in the Al-Anbar province, a volatile area that stretches west from Baghdad to the Syrian border, the military said. The military did not release the identity of the Marine, the 903rd U.S. military fatality in Iraq since the war began according to an Associated Press count.

Gunmen in three cars attacked a convoy carrying the chief of police for west Baghdad on Saturday as he passed near the town of Mahmoudiya south of Baghdad. Two bodyguards were killed, but Brig. Sabah Fahad escaped unharmed, said Mahmoudiya hospital director, Dr. Dawoud al-Taie.

A rocket exploded in the downtown Jubairya district in the northern city of Samarra, killing one man and injuring three other civilians early Saturday, police Maj. Sadoun al-Dulaimi said. It was unclear who fired the rocket.

Saboteurs also set off two explosions on an oil pipeline 12 miles south of Samarra late Friday, police Capt. Khaled Abdul-Amir said. The 125-mile pipeline stretches from al-Doura oil refinery in Baghdad to Beiji, north of Samarra. The extent of the damage was unclear.

Associated Press Television News footage showed bright orange flames and a thick black plume of smoke billowing from the ruptured pipeline.

Insurgents across the country have waged a violent 15-month campaign of sabotage, bombings, kidnappings and other attacks against local officials and coalition forces.

The kidnapping of a diplomat and a top businessman indicated that militants, who had previously preyed on truck drivers and other foreign workers, may be changing tactics and were now aiming much higher in their effort to weaken the coalition and sow chaos in Iraq.

In the latest kidnapping, unidentified men riding in two cars blocked Raad Adnan's vehicle as he was driving through southeastern Baghdad on Saturday and snatched him, said Interior Ministry spokesman Adnan Abdel-Rahman.

Adnan is the general director of Al-Mansour Contracting Co., a government-owned company that carries out construction contracts for Iraqi government ministries. Adnan, a construction engineer, was a member of the Baath party and helped build some of Saddam Hussein's presidential palaces.

On Friday, militants kidnapped Egyptian diplomat Mohammed Mamdouh Helmi Qutb as he left a mosque and demanded his country abandon any plans to send security experts to support Iraq's new government, according to a video broadcast on the Al-Jazeera television station. He was believed to be the first foreign diplomat kidnapped in Iraq.

Iraqi Interim Prime Minister Iyad Allawi urged Egypt not to bow to the demands of the kidnappers.

"It is time for us to close ranks to fight terrorism. There is no way to budge to terrorists and give them what they want," Allawi said during a visit to Syria. "The only way to deal with terrorism is to promote justice and to close ranks, and we hope Egypt and the Egyptian government will act accordingly."

An Egyptian official told the AP on Saturday that his country's mission to Egypt has not yet been contacted by the militants, a previously unknown group called "The Lions of Allah Brigade."

"Iraqi authorities have contacted the Egyptian mission and offered help, but as yet there have been no negotiations or mediations with the kidnappers," said Badr el-din de-Souki.

The rash of kidnappings, which also included the abduction of seven foreign truck drivers Wednesday, has threatened Iraq's efforts to rebuild the country and persuade more governments to commit troops to the coalition here.

Iraqi interim Public Works Minister Nasreen Berwari denounced the kidnappings as "inhumane and savage" attacks on Iraq's "stability and well-being."

"This problem can only be solved when the international community as a whole supports Iraq to sustain its security for its people and the people who are coming to help Iraq, and they are very much needed at this stage," she told reporters.

The militant group holding the seven truck drivers announced new demands in a video broadcast Friday, calling on the hostages' Kuwaiti employer to pay compensation for those killed by U.S. forces in the city of Fallujah and demanding the release of all Iraqi detainees in Kuwaiti and U.S. prisons.

The group, calling itself "The Holders of the Black Banners," had originally demanded the company stop doing business in Iraq and that the hostages' countries withdraw their citizens. The group threatened to begin beheading the three Kenyans, three Indians and an Egyptian every 72 hours starting Saturday night.

"I'm trying to get in contact government officials to find out it can do. I hope it's doing the best it can," Talal Mohamed, a brother of hostage Jalal Awadh, said in Kenya.

The new demands in Friday's tape were almost certain to go unmet, but that tape did not appear to repeat the earlier beheading threat and bore no other specified ultimatum. The militants gave the company a 48-hour deadline, but it was unclear if that meant the initial deadline was extended until Sunday.

Rana Abu-Zaineh, an official with the Kuwait and Gulf Link Transport, Co., said the company was negotiating with the militants and was confident the hostages would be freed. She did not provide details.

In India, External Affairs Minister Natwar Singh said the insurgents appear to be motivated by money, not politics, and that the victims may be released soon.

Militants in recent months have kidnapped roughly 70 foreigners in their campaign to force countries to withdraw troops and to scare away contractors working on reconstruction projects. At least three hostages have been beheaded.




Today's Top News
Top World News

Rail sector to receive private funds




Landmark pact expands airline routes with US




Law taking on money laundering in works




US advised arms sales to Taiwan harms ties




Babies in tote bags lead to gang arrests




Cloud seeding helps alleviate drought