U.S. officer arrested for beating a Chinese
(Agencies)
Updated: 2004-07-24 11:27
A Homeland Security inspector of the United States was charged Friday with violating a Chinese tourist's civil rights following an altercation that left the innocent woman's eyes nearly swollen shut and bumps and bruises on her face and head.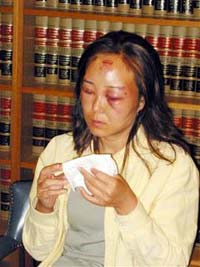 The Chinese woman Zhao Yan suffers bumps and bruises on her face and head. [people.com.cn]
The incident occurred late Wednesday at the Rainbow Bridge on the US-Canadian border in Niagara Falls, after Customs and Border Protection officers confiscated marijuana from a male pedestrian.
Officer Robert Rhodes, mistakenly believing the Chinese woman standing nearby was involved, allegedly sprayed her with pepper spray, threw her against a wall, kneed her in the head as she knelt on the ground and struck her head on the ground while holding her hair, according to witnesses.
The woman, whose identity was withheld in legal documents, was treated at a hospital and released.
"Subsequent investigation reveals (the victim) had nothing to do with the marijuana smuggling but was merely a tourist who happened to be in the area," a supervisor's affidavit said.
Rhodes could not be reached to comment Friday. A telephone number listed in his name was disconnected.
In his affidavit, Senior Special Agent Steven MacMartin, who interviewed the victim through an interpreter several hours later, noted that "both of her eyes were nearly swollen shut, that she had a large swollen area on the front of her forehead, that she had bruises around the eyes, and that she had a contusion high up on her forehead. (The woman) also complained of a scraped knee," MacMartin said.
In a statement written by Rhodes as part of normal procedure, Rhodes said that after the male pedestrian was found to be hiding marijuana, another officer told him to go get three women who were believed to be travelling with him.
Rhodes said he went outside and asked the Chinese woman and two other women to come into the inspection station but that they ran. He said he grabbed the nearest one and sprayed her with pepper spray when she swung her arms at him.
Rhodes said the woman scratched his arm and they both fell to the ground.
Authorities were seeking a search warrant to photograph and videotape Rhodes to determine whether he was injured.
Rhodes was charged with violating the woman's civil rights by injuring her, and could face up to 10 years in prison if convicted.
Today's Top News
Top China News

China's agricultural sector opening further




Details out on US officer beating of Chinese




Central bank to ensure 'soft landing'




Esperanto speakers gathering in Beijing




Migrant workers to get injury insurance




Hu stresses both national defense, economy