US advised arms sales to Taiwan harms ties
(Agencies)
Updated: 2004-07-24 00:25
China told visiting Admiral Thomas Fargo of the United States that the US should halt its arms sales to Taiwan and end its military exchanges aimed at upgrading its relationship with Taiwan.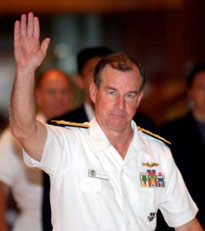 Admiral Thomas Fargo of the U.S. Pacific Command waves as he leaves a hotel in Beijing, July 23, 2004. [Reuters]

During separate meetings with Fargo on Friday, General Liang Guanglie, chief of the general staff of the Chinese People's Liberation Army, and Foreign Minister Li Zhaoxing said US officials should clearly understand the seriousness and sensitivity of the Taiwan question.

Expressing appreciation for US President George W. Bush's repeated assurances that the US side will adhere to the one-China policy, abide by the three Sino-US joint communiques and oppose the independence of Taiwan, both Liang and Li acknowledged the Sino-US relationship is generally advancing in a positive direction. However, they noted the Taiwan question, which concerns China's core interests, has become the biggest factor in the steady development of ties between the nations.

"We are prepared with the greatest sincerity to make the greatest efforts to realize the peaceful reunification of the motherland. But we certainly will not allow Taiwan to become independent," Li told reporters after the meeting.

"We certainly will not allow anyone, using any excuse, to cut Taiwan from our great motherland, to split it from the great motherland. Everyone should be clear on this piece of information," he said.

During the talks with Chinese leaders, Fargo stressed that the US side hopes the East Asian region will maintain its stability and prosperity.

During the meeting with Liang, Fargo said that one of the purposes of his visit is to ensure everybody that there are no changes to the US policy on Taiwan, according to a source familiar with the meeting.

Fargo was in Beijing on an Asian tour that will take him to Guam, Mongolia and Japan after his China stop-over.

"This trip is an opportunity for Admiral Fargo to personally meet with defence leaders of the People's Republic of China," a statement from the US Embassy in China indicated, noting the visit is part of a routine circuit through the region.

It is Fargo's third sojourn to China. He arrived in Beijing Wednesday as guest of General Liu Zhenwu, commander of the Guangzhou Military Area Command.

On bilateral military ties, Liang said a vibrant relationship between the nations and their armed forces is crucial to safeguarding international and regional stability.

Fargo said the United States is willing to carry on high-level dialogue with China and strengthen co-operation in various sectors.

During the meetings, Fargo and Chinese leaders also exchanged views on international and regional issues, including the nuclear matter on the Korean Peninsular and the rebuilding of Iraq.

Fargo's visit to China follows a trip this month to Beijing by US National Security Adviser Condoleezza Rice, during which the Taiwan question was underscored.

As the senior commander of US military air, ground and naval forces in the Pacific and Indian ocean areas, Fargo's responsibilities include oversight of all US regional military activities.

Analysts said Fargo's visit is to assure Beijing that the US side will not encourage Taiwan to make "irresponsible moves."

This month, the mainland and Taiwan started military drills. The United States navy also has been conducting large-scale exercises this summer.

Military experts have said chances of an armed confrontation increased with the re-election of pro-independence Taiwanese leader Chen Shui-bian in March.

A survey conducted by Taiwan's "Business Weekly" shows that 58 per cent of Taiwan residents believe a cross-Straits war would likely break out if Taiwan declared independence. These people said they oppose such a war.




Today's Top News
Top China News

Rail sector to receive private funds




Landmark pact expands airline routes with US




Law taking on money laundering in works




US advised arms sales to Taiwan harms ties




Cloud seeding helps alleviate drought




Two face death penalty for billionaire's slaying