White powder found at Kerry headquarters
(Agencies)
Updated: 2004-07-23 10:38
A white powder found in a package opened at US Democratic presidential candidate Sen. John Kerry's presidential campaign headquarters Thursday was harmless and could have been garlic powder, authorities said of an apparent hoax that forced police to seal off the building.
"It appears to be some kind of garlic powder, commonly used for seasoning foods," said Alan Etter, a spokesman for the Washington, D.C., Fire Department.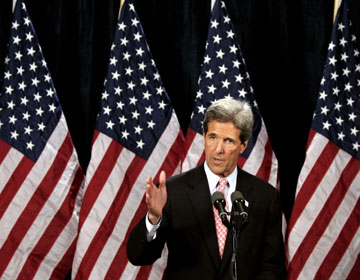 Democratic presidential candidate U.S. Senator John Kerry (D-MA) comments on the release of the 9/11 Commissions report in Detroit, July 22, 2004. [Reuters]


The package, containing two letter-sized envelopes, was turned over to the FBI for further investigation.

Debra Weierman, spokeswoman for the FBI's Washington field office, said initial field tests on the substance turned up no evidence of any harmful substance. "No hazard was detected," she said.

The white powder was in a letter containing a contribution to Kerry's presidential campaign, she said. There was no threatening message in that letter, she added.

Further lab tests will be done on the substance to ensure that the field tests were accurate, Weierman said.

Etter said authorities initially were told there was a threat, but later determined the envelopes contained blank pieces of paper.

"We are thankful that this was a hoax, but we hope the FBI fully investigates, catches and prosecutes the person who mailed the letters," Kerry spokeswoman Debra DeShong said.

Kerry, D-Mass., and his vice presidential running mate, Sen., D-N.C., were hundreds of miles away, campaigning their way toward next week's Democratic National Convention.

The discovery of the package prompted authorities to order a fleet of emergency vehicles to converge on the location, and personnel in biohazard suits entered the building.

Kerry aides continued with their work throughout the incident, though the building's air conditioning was shut down for at least 30 minutes. Streets around the building were closed to traffic, and firetrucks were parked alongside the building, which also houses several businesses not connected to the Kerry campaign.




Today's Top News
Top World News

Wanted: Jobs for millions this year




Beijing warns Taipei about missing tourists




Pilot projects mapped for green economy




China unhappy with British comments on HK




Flood death toll reaches 100 in Yunnan




Power consumption hits new record