Diana's ex-lover in drug arrest
(Agencies)
Updated: 2004-07-23 08:46
James Hewitt, a former lover of the late Princess Diana, has been arrested on suspicion of a drug offense, and released on bail.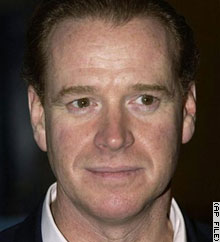 Hewitt was branded a "love rat" by the British media.

A spokesman for London's Metropolitan Police told CNN that officers arrested a 46-year-old man on suspicion of possessing a Class A drug -- a category that includes heroin and cocaine -- at a London bar Wednesday evening.

A 37-year-old woman also was arrested on suspicion of supplying a Class A drug, the police spokesman added.

Public relations executive Max Clifford, speaking on behalf of Hewitt and his manager, confirmed Hewitt was the man described by police.

Clifford told CNN Hewitt had been arrested for alleged possession of a Class A drug at 10.30 p.m. Wednesday, and was released Thursday.

The 37-year-old woman has been identified as Alison Bell, a London-based television anchor and presenter, who has worked as a freelancer for CNN, among other news organizations, including Sky News.

Hewitt and Bell were taken to a police station in Notting Hill, in West London, where they were held overnight and freed on bail Thursday.

They were ordered to report to a London police station in September, but neither had been charged, the police spokesman said.

Bell told CNN that, based on recommendation from her lawyer, she had no comment.

Anyone convicted of possessing a Class A drug faces a possible jail sentence of up to seven years, while someone convicted of supplying such a drug faces a maximum sentence of life in prison.

Diana acknowledged in a 1995 television interview that she had had an affair with Hewitt during her marriage to Prince Charles.

Hewitt, a former cavalry officer, was branded a "love rat" by the British news media after publishing a book in which he discussed his relationship with the princess, who died in a car accident in 1997.

In December 2002, Hewitt was again the subject of unfavorable publicity when he said he would sell love letters the princess wrote to him during the 1991 Gulf War.





| | |
| --- | --- |
| | |
| Swimwear for Athens Olympics debuts | |

| | |
| --- | --- |
| | |
| People cool off in water | |

| | |
| --- | --- |
| | |
| Summer weight reduction camp | |
Today's Top News
Top Life News

Wanted: Jobs for millions this year




Beijing warns Taipei about missing tourists




Pilot projects mapped for green economy




China unhappy with British comments on HK




Flood death toll reaches 100 in Yunnan




Power consumption hits new record