Bush approves US arms sales to Iraq
(Agencies)
Updated: 2004-07-22 08:56
The White House began clearing the way for U.S. arms sales to Iraq's interim government on Wednesday with a presidential directive that officials said moved Baghdad toward official status as a friendly government.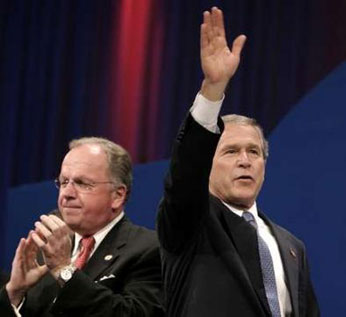 US President Bush waves after arriving at The President's Dinner campaign fundraiser at the Washington Convention Center, in Washington, July 21, 2004. [Reuters]

In the latest U.S. move to boost the new government's credibility, President Bush issued a memorandum to the State Department that formally allows Iraq to receive material, service and assistance from U.S. arms makers under the Foreign Assistance Act and the Arms Export Control Act.

Requests by Iraq for sales and assistance would be considered on a case-by-case basis, an official said.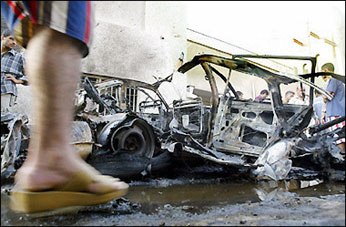 Iraqis walk by the site of a car bomb explosion in southeast Baghdad. US President George W. Bush gave the green light to US arms sales to Iraq's fledgling government, which faces deadly insurgent violence nearly one month after assuming power. [AFP]

"I hereby find that the furnishing of defense articles and services to Iraq will strengthen the security of the United States and promote world peace," Bush said in the document.

A senior administration said Bush's action moved Iraq a step closer to establishing the same arms-sale procedures for Baghdad that Washington uses to furnish arms to other "friendly governments."

"The president determined that the provision of defense articles and services to Iraq will encourage continued Democratic reform and strengthen Iraq's democratic institutions," the official said.

In Iraq, meanwhile, bomb blasts and gunfire killed at least 12 people and a group calling itself "Black Flags" threatened to behead six new foreign hostages unless their Kuwaiti employer pulls out of the country.

Adding to the unease, Bulgaria and Poland became the latest US allies here to receive threats on an Islamist website telling them to join the exodus, as a former Filipino hostage headed home after Manila pulled its small but symbolic contingent out of Iraq to save his life.

Amid escalating violence just three weeks after the US-led occupation ended, Iraq called on neighboring countries for help, saying it wanted joint security cooperation to protect their common borders.

US officials blame the attacks on insurgents seeking to discredit Iraq's nascent government as it struggles to prepare for general elections by January 2005.




Today's Top News
Top World News

Iraqi group threatens to behead 6 new hostages




Flooding and droughts plague China, together




China refutes UK official's intervention in HK




High officials caught embezzling, taking bribes




Beijing tops costly cities for living on mainland




Top concern for food safety