Lee's visit shakes bilateral ties
(China Daily)
Updated: 2004-07-21 23:51
Singaporean deputy Prime Minister Lee Hsien Loong's visit to the Taiwan Island hurt China's core interests and destroyed the political base of bilateral relations, said Chinese Foreign Ministry spokesperson Kong Quan on Tuesday.
Beijing has responded with fury since Lee, who will become prime minister next month, met Taiwan's leaders from July 10 to 12 in a visit that Singapore officials insist was unofficial.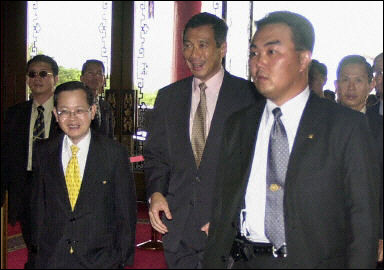 Singapore's Deputy Prime Minister Lee Hsien Loong (C) after having lunch with Taiwan leader Yu Shyi-kun in Taipei. [AFP]

In an interview with Singaporean media recently, Lee defended his visit to Taiwan. He said that China-Singapore relations are built upon the basis of equality and mutual respect.

Lee said his visit to Taiwan was "a private and unofficial visit".

As a would-be Prime Minister, Lee argued that his visit aims to safeguard interests of Singapore.

Kong described Lee's argument as "contradictory" because Lee has been a Singaporean senior government officials for many years and Taiwan also received him as "head of state."

Lee also said he visited Taiwan to learn more about the situation in the Taiwan Straits and promote regional peace and stability.

He also said canceling the visit would have damaged Singapore's independent rights and international status.

In reaction to Lee's remarks, Kong said Lee's visit lent support to Taiwan's independence forces, something that is not beneficial to regional peace and stability and will damage the interests of Singapore.

Singapore cannot maintain its international status by damaging the sovereignty and core interests of China, Kong said.

The two countries should work together to cherish the fruits of bilateral relations, said Kong, adding the two countries should take joint action to maintain the political base for bilateral relations.

Singapore caused the current difficulties in bilateral relations, said Kong.

Kong hoped the Singaporean side would face up to the seriousness of the problem and take practical actions to win the trust of the Chinese people.




Today's Top News
Top China News

Flooding and droughts drag on




Top concern for food safety




High officials caught embezzling, taking bribes




Beijing tops costly cities for living on mainland




Sino-US partnership protocol extended




New platform for scientific research