China: Lee's trip undermine basis for bilateral ties
(Agencies)
Updated: 2004-07-21 14:14
China said that the trip to Taiwan by Singapore's Deputy Prime Minister Lee Hsien Loong had damaged ties and infringed on Beijing's interests.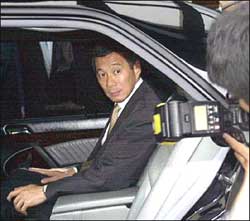 Singapore's Deputy Prime Minister Lee Hsien Loong leave a hotel in Taipei after meeting with Taiwan opposition leader Lien Chan from the Kuomintang last week. [AFP]

The visit "has infringed China's core interest and undermined the political basis of China-Singapore relations," Chinese Foreign Ministry spokesman Kong Quan was quoted as saying by Xinhua news agency.

The comments were the latest development in a row between the normally friendly nations over Lee's three-day trip last week, during which he met Taiwanese leader Chen Shui-bian and opposition leaders.

Kong was responding to Lee's recent defence of his trip to Taiwan, Xinhua said.

Lee, the son of Singapore's founding father Lee Kwan Yew, said in a written response to the media last Friday that he had declined China's request not to go, as it would have undermined the city state's independence.

He argued that he had wanted to update himself on the situation in Taiwan before succeeding Prime Minister Goh Chok Tong next month, he added.

But he reiterated Singapore's adherence to the "One China" policy and opposition to independence for Taiwan.

Singapore, whose population is almost 80 percent ethnic Chinese, has tried to maintain a delicate balance in its relations with Beijing and Taipei.

Beijing had expressed its "strong dissatisfaction" immediately after Lee arrived in Taiwan.

The governor of the People's Bank of China abruptly cancelled a visit to Singapore last week, while Chinese officials in Singapore also snubbed a dinner function hosted by Lee, who also heads Singapore's central bank.




Today's Top News
Top China News

Iraq militants free Filipino hostage, target Japan




Nations team up on arms control




China squad targets 20-plus Olympic golds




Floods kill eight, affect millions




Energy shortfall to persist




Death toll drops in work incidents