9/11 report won't say attack preventable
(Agencies)
Updated: 2004-07-21 08:50
The Sept. 11 commission's final report won't declare that the worst terrorist attack in U.S. history was preventable, though some panelists said during the 20-month investigation they believed the hijackers could have been stopped.
In the end, the panel's five Democrats and five Republicans did not want to draw a conclusion on that major point, believing it could open the way to partisan sniping in a presidential election year.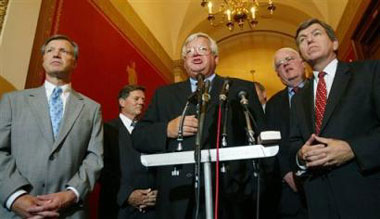 U.S. House Speaker Rep. Dennis Hastert, R-Ill., center, is joined by other Republican Leaders and Chairmen of the Jurisdiction Committee following 9/11 Commission Briefing on Capitol Hill, Tuesday, July 20, 2004 in Washington. With Hastert are from left to right, Rep. Chris Cox, R-Calif., House Majority Leader Rep. Tom DeLay, R-Texas, Rep. Jim Sensenbrenner, R-Wis. and House Majority Whip Rep. Roy Blunt, R-Mo. [AP]

"My personal view is that the intelligence system we have has been broken for a long time," said Republican commissioner John Lehman, a former Navy secretary. "But we wanted to let the American people make up their mind. They don't need our editorializing."

The 500-plus-page report will be released Thursday. Republican chairman Thomas Kean, a former New Jersey governor, and Democratic vice chairman Lee Hamilton, a former congressman from Indiana, began briefing congressional leaders Tuesday and will meet with U.S. President George Bush on Wednesday.

Besides calling for a new Cabinet-level intelligence chief, the report will recommend combining the House and Senate intelligence committees and removing term limits from members, said House majority whip Roy Blunt, R-Mo.

Currently, the limits are set at eight years for senators and six years for House members, with some exceptions that can extend to 10 years. Blunt said removing term limits is a "particularly bad idea," explaining that members would become overly ingrained within the intelligence community.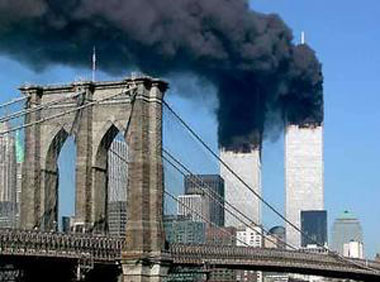 Both towers of the World Trade Center burn after being hit by two airplanes in New York September 11, 2001. [Reuters]


"The process of having oversight is to have someone watching, not part of the process, but carefully watching," he said.

House Speaker Dennis Hastert, R-Ill., said Congress will carefully consider the panel's recommendations but doesn't believe there is time this year to undertake any major intelligence revisions.

In recent interviews with The Associated Press, commissioners said the report will fault Congress for poor oversight of intelligence gathering and criticize government agencies for their emergency responses to the 2001 attacks that killed nearly 3,000 people in New York, Washington and Pennsylvania.

The harshest criticism will be leveled at the FBI and CIA, with the panel citing poor information sharing and intelligence analysis as key factors that allowed the hijackers to carry out their plot. Both Kean and Hamilton have said the attacks conceivably could have been prevented had government officials done their jobs better.

Commissioners won't point to individuals in the Clinton or Bush administrations, instead laying out what they consider a factual accounting of events.

"What's worked for us all along is looking at what the facts are and not trying to put any spin," said Democratic commissioner Jamie Gorelick, a former deputy attorney general. "We will lay out the facts with as much particularity as we can."

However, several commissioners say those facts could lead readers to conclude the attacks were preventable had the government done a better job following up on intelligence tips and tracking the 19 hijackers, some of whom entered the country illegally.

Commissioners have said it is important for them to unanimously endorse the report so their findings and recommendations are not seen as partisan. A poll released Wednesday by the Pew Research Center for the People & the Press found 61 percent of Americans believe the commission has done a good job. The support was nearly even among Republicans and Democrats.

Still, the report is expected to provide fodder for arguments in the presidential campaign.

Advisers to Democratic candidate John Kerry have said they hope to use the report to show that in the summer of 2001 the Bush administration was inattentive to threats of a possible attack.

The Clinton administration, meanwhile, was under fresh scrutiny after federal authorities said they were investigating former National Security Adviser Sandy Berger in connection with the disappearance of highly classified terrorism documents.

Berger said he inadvertently took some documents from the National Archives and later returned them but could not locate two or three copies of a highly classified report that concerned al-Qaeda threats during the December 1999 millennium celebration.

A commission spokesman said that probe wouldn't affect the panel's final report.

Meantime, several relatives of Sept. 11 victims said Tuesday they looked forward to reading the report and hoped that discussion of the nation's "colossal systemic failures" will transcend election-year politics. The commission plans a briefing with relatives Thursday before the report is released.

Commissioners plan an aggressive lobbying effort to push recommended changes. The panel will split into bipartisan pairs and travel nationwide for speaking engagements and media appearances.

That lobbying campaign will continue into the fall, even after the commission formally dissolves on Aug. 26, with several members ready to testify should Congress choose to hold public hearings on the report's findings and recommendations, said commission spokesman Al Felzenberg.

"Commissioners have all said they hoped the report would not just go on a shelf as so many others have," Felzenberg said. "They said they hoped both presidential campaigns would endorse the recommendations and Congress would act."




Today's Top News
Top World News

Nations team up on arms control




China squad targets 20-plus Olympic golds




Floods kill eight, affect millions




Energy shortfall to persist




Death toll drops in work incidents




China: World's 2nd most wired nation