Iran academic Aghajari gets 5-year prison term
(Agencies)
Updated: 2004-07-21 02:39
Iran's hardline judiciary sentenced dissident academic Hashem Aghajari to five years in prison on Tuesday for saying Muslims should not blindly follow their clerical leaders like "monkeys," his lawyer said.
The sentence marked a major climb down by the judiciary which originally condemned Aghajari to death for blasphemy after making the speech in 2002.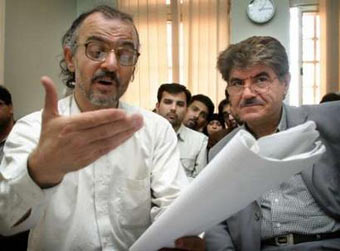 Iranian dissident academic Hashem Aghajari (L) reads out his defense during his trial in Tehran July 5, 2004. Iran's hardline judiciary has revoked the death sentence on Aghajari for blasphemy, but he still faces years in prison for lesser charges. [Reuters]

The death sentence, issued by a provincial court in western Iran, sparked some of the largest student protests for years and fueled international concern about restrictions on free speech in the Islamic state.

The blasphemy verdict was finally overturned by the Supreme Court in June after many senior clerics said it was too harsh. A re-trial was held in Tehran earlier this month.

"The Tehran court sentenced him to five years in prison for insulting Islamic values," Aghajari's lawyer Saleh Nikbakht told Reuters.

He said the court had agreed to free Aghajari, a history lecturer and pro-reform activist, on bail of 1 billion Rials ($117,000) while a further appeal is lodged.

Aghajari's 2002 speech touched a raw nerve at the heart of clerical rule in Iran by questioning the Shi'ite Muslim doctrine in which ordinary believers are obliged to emulate a senior cleric qualified to interpret the Koran.

"Are people monkeys to emulate someone else," he said.

But political analysts say Aghajari's original death sentence caused serious embarrassment to Iran's clerical establishment which is eager to see the case closed.

The court dismissed previous charges of blasphemy, disturbing public order, inciting public opinion and making propaganda against the system.

AGHAJARI'S WIFE NOT SATISFIED

Aghajari's wife said her husband should have been acquitted.

"Why should a professor be given a prison sentence for making a speech?" Zahra Behnoudi told Reuters. "If he had been acquitted we would have felt that wisdom had prevailed in the judiciary."

Two years of Aghajari's prison sentence were suspended, so after accounting for the two years he has now spent in jail, the sentence was only for one more year in jail, he said.

The court also banned Aghajari from holding public office or taking part in any activity requiring state permission, such as teaching, for five years after his prison term is completed.

While hailing the reduced sentence as a "victory," Nikbakht said he would appeal.

"As the ruling is not compatible with the comments my client made in court in denying any insult to religion I will appeal in the next 20 days and I'm sure the Supreme Court will revoke the ruling," he said.

In his final oral defense to the court earlier this month Aghajari spoke out strongly in favor of democratic reforms and criticized those who put the clergy on a pedestal.

"Some think that touching a clergyman's robes will cure people or is a blessing ... (But) clerics are not sacred," he said.

Aghajari, who lost a leg fighting in the 1980-1988 Iran-Iraq war, said he supported "an Islam that brings about freedom and is compatible with democracy and human rights."




Today's Top News
Top World News

Nations team up on arms control




China squad targets 20-plus Olympic golds




Floods kill eight, affect millions




Energy shortfall to persist




Death toll drops in work incidents




Cheers, tears and beers as hostage goes free