Floods kill eight, affect millions
By Liang Chao (China Daily)
Updated: 2004-07-21 00:49
At least eight people were killed by flooding that affected millions on Monday.
Heavy downpours pounded parts of Central and Southwest China and caused swelled rivers.
Flooding has worsened with heavy rain in Central China's Hunan Province since last weekend. Some 2.6 million people in the northwestern part of the province were badly affected, said reports Tuesday.
By Monday, nearly one third of Huaihua's urban area in Hunan was underwater, with the deepest water level measuring five to six metres.
Five separate county towns in Huaihua were flooded at one point, local media said.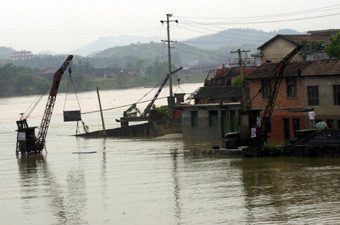 Buildings along Taojiang River, a river in central China's Hunan Province, are in flood caused by consecutive rainstorms Tuesday. [newsphoto]


Local officials said Huaihua was hit by 970 landslides, in which two people were killed. So far, some 102,000 people have been moved to safer high ground.

The floods have also been serious in northwestern Hunan's Zhangjiajie, Changde and Yiyang with 284 local roads blocked.

In Anhui Province, the flood-prone Huaihe River saw its first crest this year approaching Wangjiaba Tuesday due to heavy rains upstream.

Local flood control departments were closely monitoring water levels as the peak passed through Wangjiaba last night, the most important sluice gate, which is used to control flash floods upstream and downstream of the rivers' trunk stream.

"The consecutive rainfall is to leave areas south of the Yangtze River as of today," weathermen from the Central Meteorological Observatory predicted.

However, "heavy rains are likely to go on in Southwest China's Yunnan-Guizhou Plateau and the Guangxi Zhuang Autonomous Region in the next three days," they said Tuesday.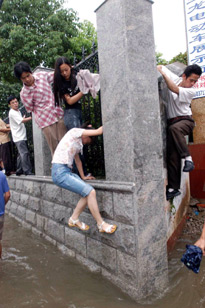 Pedestrians make their way across a flooded section of a street by tiptoeing along a fence in Wuhan, capital of Central China's Hubei Province on Monday. Torrential rains hit the city on Monday, placing many streets under water. [newsphoto]


In Southwest China's Yunnan Province, the water level in the Liuku part of the Nujiang River in the Lisu Autonomous Prefecture had receded below the warning line.

By Monday afternoon, floods had killed six people and 11 were still missing. Some 7,570 were badly affected, 3,638 houses were toppled and 310 hectares of fields were submerged.

Rainfall since July 1 caused flooding in the prefecture.

More than 2,000 soldiers and armed police worked with local residents to fight floods along the swollen Nujiang River for six days and nights.

Chinese President Hu Jintao ordered the country's flood control departments to make full preparations for more possible floods, after the problems in southern and central China that started last week, Xinhua reported on Monday.

Hu urged flood control authorities, local governments, the People's Liberation Army, the armed police, and police to get ready for even greater floods and make arrangements to help residents displaced by floods, sources said.

Serious floods have already occurred in many areas this month as major floods usually take place in late July and early autumn in China.

Some 60,000 residents in Henan Province were transferred to safe places during the past few days after sections of the swelling Lihe River overflowed and parts of the embankment burst.

The State Flood-Control and Drought Relief Headquarters and the Ministry of Civil Affairs have allocated 24 million yuan (nearly US$3 million) in emergency fund and provided 1,000 tents to areas hit by floods in Henan.




Today's Top News
Top China News

Nations team up on arms control




China squad targets 20-plus Olympic golds




China: World's 2nd most wired nation




Death toll drops in work incidents




Overseas Chinese help modernization




Energy shortfall to persist