Shanghai in love: no more hush-hush
(Shanghai Star)
Updated: 2004-07-20 15:03
It's summer, and love is everywhere - literally. From parks to subways to street corners, smooching couples can be spotted anywhere, anytime.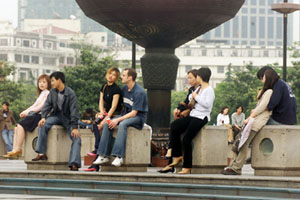 Young duos are affectionate in public. [file photo]

Most duos are extremely affectionate in public - some are even shameless in their public declarations of love.

But this isn't the way it used to be.

For a society that kept romantic relations a hush-hush subject in the past, the tables have been turned. Chinese adolescents have ironically become more comfortable with the realities of dating than perhaps even their counterparts in the West.

"It's because of the dramatic social changes that have occurred," said Zhang, a 23-year old woman college graduate. "It includes everything: the economy, society, and certainly the influence of Western culture."

For one thing, teenagers are feeling the strike of Cupid's arrow at a younger and younger age: aside from the giddy crushes felt in grade school, love interests generally develop around the age of 16 - the beginning of high school.

"Girls tend to start earlier than boys, but it all definitely begins around that age or so," said 19-year-old Sun, who goes by her surname.

The notable changes in the dating scene is evident in the general acceptance of public displays of affection, or as they have been daubed in the West, "PDA." Such behaviour includes hand-holding, kissing, and for those a little more fearless, slightly more passionate embraces in any public area. Young adults in Shanghai don't seem disturbed at all by such scenes; in fact, as they point out, it's all natural.

"Why shouldn't couples be affectionate towards each other? It's very common, and there's nothing wrong with it," said Zhang.

Interestingly enough, such behaviour is viewed quite differently in the US, where there exists a stigma surrounding the habit of showing public affection.

"I think the general consensus about PDA is that it's accepted in small doses," commented Lauren Kim, a high school sophomore from California. "Nobody likes a couple who is always smooching in public, since it makes people insecure about themselves - not to mention awkward in the couple's presence."

New attitudes

The current perspective on relationships among young adults is a far cry from China's traditional views on romantic relationships and marriage. Following the principles of the "Three Letters and Six Etiquettes," China's bachelors and spinsters were long at the mercy of a structured process, monitored by the family and a match-maker. Marriage was meant for continuing the ancestral line, and creating alliances between families - much too important a duty to be left in the rash hands of the young.

Today, however, it seems that no one is even thinking of marriage when they engage in romantic relations with significant others.

"Marriage? Gosh, I haven't even thought about it yet," said Sun. "I feel like it's too early to think about that sort of thing; we're too young."

Relatively speaking, parents have also loosened their grip on the traditional ideals of marriage and relationships. Zhang said that her parents only minded her being romantically involved when school was in session.

"My studies were very important to them, and they wanted me to concentrate," she said. "But now that I'm out of college, they encourage me to find a steady boyfriend."

Although conceptions about the subject have indeed evolved, there still remains a relatively close bond between young adults and their traditional morals of settling down and devoting themselves to a family life.

"When you reach a certain age, I think it's appropriate to marry," said Zhang. "27 or 28, I'd say; it's good to settle down and stabilize your life then. But if not, it wouldn't be too big a deal, no one really cares whether you marry or not."

This latter outlook perhaps corresponds better with the Western norm and lifestyle, given the widespread cohabitation there. Ryan Hart, 28, reflected that couples are getting married later and later, "lending more importance to the custom of dating," he said. Hart, who has lived long-term in both Eastern and Western environments, comments on the difference between each respective experience regarding dating.

"It's a lot more liberal in the East," he said. "And I think it fosters an independence in relationships that you don't get in the West. There, it's more regimented; there's more of a tradition, order, or protocol to dating."

Diverse couples

And what about the differences between actual dating practices, and the nature of relationships?

Chinese couples seem to possess much of the same diversity in relationships as Western duos; while Zhang reported that 70 per cent or so of her close friends do not have significant others, Sun stated that most of hers in fact do. Length of relationships varies much in degree as well, as Zhang said that both long and short-term dating are common amongst her friends.

What the West has, however, is interracial and same sex dating - two entities that are still quite foreign to the city of Shanghai. Although many Caucasian-Asian couples can often be seen strolling hand in hand, the figure is dwarfed by the racial diversity of American couples, which vary from black to white and everything in between.

Similarly, homosexuality - although emerging slowly in China - is still very much an underground culture compared to the liberal atmosphere that gays experience in the US and elsewhere in the Western world.

Nonetheless, the number of lovey-dovey couples that can be seen in the city today is astonishing. Shanghai is in love - a fact that should let Cupid relax and take it easy for a while.




| | |
| --- | --- |
| | |
| Jay Chou's new album to be released | |

| | |
| --- | --- |
| | |
| First HK pet cemetery debuts | |

| | |
| --- | --- |
| | |
| Sharon Stone in Rolling Stone | |
Today's Top News
Top Life News

AFC official apologizes for tirade of misunderstanding




Intense flood strain builds up




Green policies vital for healthy development




100 foreign banks now offer RMB services





US looking into whether Iran involved in 9/11




Safety of Chinese abroad on work agenda