Computer to combat child obesity
(Agencies)
Updated: 2004-07-20 08:36
A new computer therapy is being used to tackle obesity in children.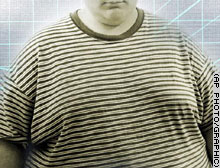 Obesity is one of the major threats to children's health.

Connected to a small dining set, consisting of scales and a plate, a mini computer teaches children how to eat and reminds them when to stop.

"In obese people, hunger signals from the stomach to the brain stop functioning. But the new computer system teaches the children how to receive these messages again," says Dr. Julian Hamilton-Shield, the Bristol University senior lecturer leading the therapy trials.

While eating, children are continuously asked by the computer to register a level of fullness and -- through the process of re-association -- the hunger signals are gradually revived.

The computer, called a Mandometer, records and stores the weight loss from the plate when children eat. As the food is leaving the plate, a curve is generated on the computer screen indicating whether the child is eating too quickly.

"Children with weight problems often eat to quickly. We want them to eat steadily and slowly and the system teaches them to slow down. It's a bit like retraining," says Hamilton-Shield.

Obesity now represents one of the major threats to the future health of children. About one in five boys and one in four girls aged two to 15 in England are overweight. But so far no treatments have proven effective in treating children.

London nutritionist Seema Khajuria welcomes the new technology, but doubts it will work without strict supervision.

"The children will need to have strong will power to avoid junk foods and drinks and had they been strong willed they would not have been obese in the first place."

The Mandometer was developed in Sweden, but is currently undergoing further development at the University of Bristol, with £120,000 ($224,400) in funding from BUPA -- a global health and care organization.

"The BUPA foundation is extremely encouraged by this trial which is looking at new ways of tackling the problem," says Dr. Andrew Vallance-Owen, governor of the foundation.

The system could be on the market in two years time. At first, it would be administered by medical clinics. "At a later stage, it could be developed into a self-sufficient system monitoring and providing feedback," says Hamilton-Shield.




| | |
| --- | --- |
| | |
| First HK pet cemetery debuts | |

| | |
| --- | --- |
| | |
| Sharon Stone in Rolling Stone | |

| | |
| --- | --- |
| | |
| Three generations of Presley women | |
Today's Top News
Top Life News

AFC official apologizes for tirade




Intense flood strain builds up




Green policies vital for healthy development




Safety of Chinese abroad on work agenda




EU may lift imports bans




Shanghai set for huge tourism gala