100 foreign banks now offer RMB services

By Zhang Dingmin (China Daily)
Updated: 2004-07-20 08:36
A total of 100 foreign banks - half of those operating in China - have already been allowed to conduct business in the renminbi, the nation's currency, the China Banking Regulatory Commission (CBRC) said Monday.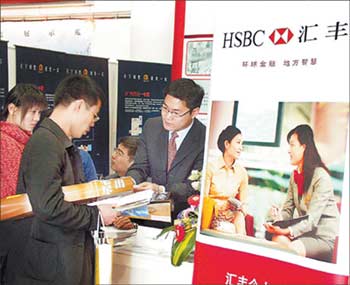 Employees of HSBC's Shanghai branch introduce the bank's housing loan policies at a recent real estate expo in the metropolis. China is gradually opening its banking sector to foreign capital in accordance with promises made upon its accession to the WTO. [newsphoto]
And 53 of them have been approved to provide renminbi services to Chinese enterprises, only a few months after China gave the greenlight at the end of last year, it said.
The remaining 47 can only provide renminbi services to foreign-invested companies.
China is gradually opening its banking sector to foreign capital in line with promises made upon its accession to the World Trade Organization (WTO) in December 2001.
Foreign banks have established around 200 operating entities in the 13 cities that have already opened up.
Foreign banks' renminbi-denominated assets totalled 84.4 billion yuan (US$10.2 billion) at the end of June this year, a 49 per cent year-on-year rise, the commission said.
Their profits from renminbi operations stood at 267 million yuan (US$32 million) in the first half of this year, the commission said. Although it did not reveal the growth rate, senior commission officials said earlier profits from renminbi operations at the 84 foreign banks then allowed to provide local currency business soared by an impressive 37 per cent year-on-year during the first 10 months of 2003.
"That illustrated the fast growth trend enjoyed by foreign banks in the Chinese market, and is an indication of market liberalization," said Wang Yuanhong, a senior analyst with the State Information Centre.
Foreign banks have so far been allowed to provide 12 categories of services in China, including online banking, underwriting of Treasury bonds, real estate mortgage loans, cash management and wealth management.
Seven foreign banks received the commission's approval in 2003 to provide online banking services, with five getting the go-ahead to act as custodians for qualified foreign institutional investors, a selected group of investors allowed to trade A shares that were previously only open to Chinese investors.
"Foreign banks are seeing their business scope gradually broaden, and are demonstrating strong competitiveness in many areas," said Ba Shusong, deputy director of the Finance Research Institute under the Development Research Centre, a State Council think-tank.
Foreign banks have yet to make the impact on the local market that many had feared, he noted.
Some analysts had expressed concern prior to China's WTO accession that, with sprawling networks but weaker management expertise and corporate governance, local banks may end up as collectors of deposits to fund foreign banks' lending operations.
Foreign banks' share of foreign currency-denominated loans dipped to 7.4 per cent in 2002 from 15 per cent in the previous year, Ba said. This rebounded to 13 per cent last year. Their total assets accounted for 1.4 per cent of China's total banking assets at the end of October last year.
"There are underlying reasons for this," Ba said. "Some foreign banks lacked the ability to grasp key business opportunities arising from China's rapid economic growth.
"Business restrictions remain and Chinese banks are still quicker with loan expansion."
But foreign banks are bound to witness faster growth in the coming years, analysts said. China is scheduled to totally open up its banking sector by the end of 2006, freeing foreign banks from all business and geographical restrictions.
Foreign banks in China are set to gain from the sector's accelerated reforms, which will generate enormous opportunities for them.
Regulators have extended an unambiguous welcome to foreign banks to participate as strategic investors in Chinese banks.
The Chinese Government is pressing ahead with the joint-stock reform of not only major lenders, such as the four largest State-owned commercial banks, but also the tens of thousands of credit co-operatives scattered across the country.
In a meeting with foreign banks earlier this year, CBRC Chairman Liu Mingkang also indicated that experienced foreign banks would be needed to work as agencies in an upcoming qualified domestic institutional investor scheme.
Today's Top News
Top China News

AFC official apologizes for tirade of misunderstanding




Intense flood strain builds up




Green policies vital for healthy development




100 foreign banks now offer RMB services





US looking into whether Iran involved in 9/11




Safety of Chinese abroad on work agenda