9 killed in truck bomb blast in Baghdad
(Agencies)
Updated: 2004-07-20 02:43
A suicide bomber in a fuel truck blew it up early Monday at a police station in southwest Baghdad, killing nine people and wounding about 60 as the inferno engulfed civilians and officers waiting for their daily assignments, officials and witnesses said.
Later, the Defense Ministry said militants killed Essam al-Dijaili, the head of the military's supply department, in a drive-by shooting as he walked into his house in Baghdad.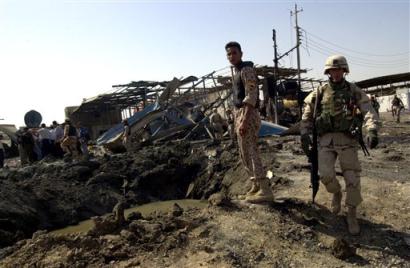 A crater from the blast is seen at the site of an insurgent attack at a police station at Seidiyeh neighbourhood in Baghdad, Iraq Monday July 19, 2004. A white fuel tanker plowed towards a police station in southwest Baghdad early Monday, detonating and killing at least nine people and wounding about 60 others. [AP]


The morning blast outside the police station in the Seidiyeh neighborhood, the latest in a string of deadly attacks on police, came as officers gathered to receive their daily assignments. Insurgents throughout Iraq have used car bombs roadside bombs and other weapons to target police, whom they view as collaborators with U.S. forces.

The explosion leveled car repair garages and other industrial workshops. Cars were crushed under concrete, while others turned into flaming wrecks. Corrugated metal roofs were twisted and chunks of buildings were scattered hundreds of yards away.

"We were all standing in a row, listening to our officer as he gave us our assignment for the day," said Mehdi Salah Abed Ali, 32, lying in a bed at al-Yarmuk hospital, a bandage around his leg.

"There were many policemen standing in the square when the tanker exploded," he said. The explosion took place just after 8 a.m.

In the assassination of al-Dijaili four gunmen drove up as he was carrying dinner into his home Sunday night and opened fire, killing him and his bodyguard, said Mishal al-Sarraf, an adviser to the defense minister.

"He was killed in cold blood by the evil hands of the followers of the former regime," al-Sarraf said.

The assassination was the latest attack on senior Iraqi officials. Assailants killed the governor of Nineveh Province last week and tried unsuccessfully to assassinate the country's justice minister. They have also targeted police officers, accusing them of being collaborators with U.S. forces.

Reversing a decision by the former U.S.-led occupation authority, Prime Minister Iyad Allawi issued a decree reopening a controversial newspaper that had been closed by U.S. officials in March, sparking months of fighting between U.S. forces and fighters loyal to radical Shiite cleric Muqtada al-Sadr.

The weekly Al-Hawza was the mouthpiece of al-Sadr's "Sadrist" movement, routinely carrying his fiery sermons on its front page along with articles sharply critical of the U.S.-led occupation.

Allawi, himself a Shiite, ordered the paper reopened Sunday in an effort to show his "absolute belief in the freedom of the press," his office said in a statement. The decree appeared designed to broaden Allawi's base of support as his government struggles for legitimacy.

Meanwhile, three vehicles filled with waving Filipino troops drove out of Iraq to Kuwait, the last members of Manila's peacekeeping contingent that is withdrawing to meet a demand by Iraqi insurgents threatening to behead a hostage from the Philippines. Washington opposed the pullout.

In the suicide bombing early Monday, the presence of the white tanker truck in the industrial area did not raise concerns until it started speeding toward the police station, said Ahmed Nouri, a worker at a nearby car wash.

"I was standing with a friend when we saw the tanker speeding in an unnatural way," Nouri said, describing the driver as a young man with a light beard.

The tanker exploded about 490 feet from the fenced-in, two-story police station.

After the attack, protesters gathered and chanted, "Long live Saddam!" before police came in and dispersed them by firing in the air.

In another attack on law officers, the body of Lt. Col. Nafi al-Kubaisi, the police chief of the town of Heet, was discovered Monday at a market in nearby Fallujah, officials said. Al-Kubaisi had been kidnapped Saturday from his police station, said Capt. Nasir Abdullah.

The six cars of Filipino soldiers left their camp in Hillah, south of Baghdad, after paying an "exit call" on the Polish commander at the base.

The troops were the last of a 51-member Philippine contingent that was pulled out of the country to meet the demands of kidnappers holding a Filipino truck driver hostage.

Foreign Secretary Delia Albert said they would travel by road to Kuwait then take a commercial flight home.

"Before the end of this day, all members of the Philippine humanitarian contingent will be out of Iraq," she said in a nationally televised statement.

Some allies have sharply criticized the move, saying it would only encourage more kidnappings.

In the past 15 months, militants have used kidnappings, car bombs, sabotage and other attacks to try to destabilize the country and push out coalition troops.

In other violence, a bomb exploded near a military base in Baqouba, north of the capital, injuring two young shepherds, said Ali Hameid al-Jobori, an official at Baqouba's main hospital.

Militants also fired a rocket-propelled grenade at a fire station in the Baghdad neighborhood of al-Salihiya, injuring one person, the U.S. military said.

Also Monday, Turkmenistan broadcaster Leith Hussein Ali was killed and two others were injured when their car came under fire in the northern city of Mosul, police said.

The violence came a day after a U.S. airstrike authorized by Allawi hit purported trenches and fighting positions in Fallujah used by al-Qaida linked foreign fighters, killing 14 people, Iraqi officials said.

Word that Allawi approved the Sunday morning attack was a clear attempt to show the Iraqi government has taken full sovereignty from the Americans and has firm control, despite its deep reliance on the 160,000 foreign troops, mainly from United States.

"We worked with the government, the government was fully informed about these matters, agreed with us on the need to take the action, we conducted the action," U.S. Deputy Secretary of State Richard Armitage said at a news conference here. "We didn't just strike off on our own, a sovereign nation had to agree."

Since the U.S. Marines pulled back from Fallujah — a focal point of resistance to the U.S. occupation — after besieging the city for three weeks in April, the U.S. military has been limited to using missiles attacks and airstrikes to hit potential targets there.

The nature of Sunday's target, like those hit in previous attacks, was in dispute.

The U.S. military said it had destroyed trench lines and fighting positions used by fighters loyal to Abu Musab al-Zarqawi, the al-Qaida linked Jordanian militant blamed for masterminding car bombings and other attacks in Iraq. The military said 25 al-Zarqawi fighters had been at the site just moments before.

Fallujah Mayor Mahmoud Ibrahim al-Jirisi said the attack hit a site for civilians supporting the Fallujah Brigade, a militia of local residents that took responsibility for security in the city when the Marines left.

"There are no Arabs or foreigners with them," he told the pan-Arab television station Al-Jazeera.

The attack, the sixth U.S. strike on the city in roughly a month, killed 14 people and injured three, according to al-Amili.

After a July 5 airstrike, Allawi, who has promised strong security cooperation with the Americans, issued an unprecedented statement saying his government had provided intelligence for the strike.

After this attack, he went far further, saying he had authorized the strike.




Today's Top News
Top World News

Intense flood strain builds up as flood season starts




Green policies vital for healthy development




Safety of Chinese abroad on work agenda




EU may lift imports bans




AFC official apologizes for tirade




China opens diplomatic files to the public