Bomb kills senior Hizbollah member in Beirut
(Agencies)
Updated: 2004-07-20 02:43
A bomb killed a senior member of Lebanese guerrilla group Hizbollah in the southern suburbs of Beirut on Monday in an attack the group blamed on Israel.
Witnesses said the wreckage of a Mercedes car lay in the road, its glass shattered. Blood stained the ground beside it.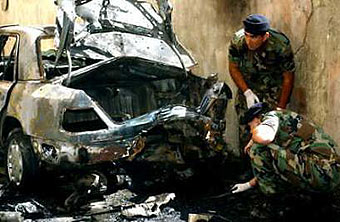 Lebanese soldiers sift through the remains of a bombed Mercedes car in Beirut's southern suburbs July 19, 2004. The bomb killed senior Hizbollah guerrilla Ghaleb Awali. The Syrian and Iranian backed group accused Israel of carrying out the attack. [Reuters]


In a statement, Hizbollah said the blast killed Ghalib Awali -- who it said "had a long history of jihad with the Islamic Resistance" -- as he left his home at about 8:30 a.m. (1:30 a.m. EDT).

Hizbollah's TV station, which broke into programming to announce the blast, called him a member of the group's leadership. There was no immediate claim of responsibility.

Hizbollah, which played a leading role in helping to end Israel's 22-year occupation of south Lebanon in 2000, pointed the finger at the Jewish state and hinted at retribution.

"The one responsible is the Zionist enemy ... Israeli hands which we will cut off, God willing, and hands of their agents on the inside which we will also cut off, God willing," Hizbollah leader Sheikh Hassan Nasrallah told mourners.

He accused Israeli infiltrators, possibly using U.S. or European passports, and what he called Israel's Lebanese "agents."

Lebanese President Emile Lahoud echoed the charge, warning in a statement: "Israel cannot escape bearing responsibility for this attack."

Prime Minister Rafik al-Hariri denounced the crime and said he was confident security agencies would find the criminals.

Israel declined comment.

RAISE YOUR VOICES

Awali, a 41-year-old father of five, had led several attacks on Israeli forces during the occupation, Hizbollah officials said. He was captured by Israeli forces in 1982 and imprisoned in Lebanon for 18 months.

At his funeral in the southern town of Tulin, a few thousand mourners chanted Hizbollah slogans and waved flags.

"Raise your voices so they can be heard in Israel," one of the leaders of the congregation shouted.

Israel assassinated Hizbollah leader Abbas al-Mussawi in 1992 in an air strike on his car, and Lebanon has tried and convicted several people in recent years of spying on and plotting against the Iranian- and Syrian-backed group.

Israel has in recent months stepped up its rhetoric against Hizbollah, calling the group a major backer of Palestinian militants in the West Bank and Gaza Strip (news - web sites).

The blast recalled the killings of two Lebanese whom Israeli security sources accused of links to Hizbollah and al Qaeda. Locals blamed those killings on Israel's Mossad, a charge the Jewish state neither confirmed nor denied.

A car bomb last year in the same part of Beirut killed a Hizbollah member whom security sources and witnesses identified as an employee of the Iranian embassy in the Lebanese capital.

Since helping drive Israel from south Lebanon, Hizbollah has brokered a swap of the remains of Israeli soldiers it captured in a disputed border zone and a reservist it abducted for Lebanese captives in Israel, including senior Hizbollah figures.




Today's Top News
Top World News

Intense flood strain builds up as flood season starts




Green policies vital for healthy development




Safety of Chinese abroad on work agenda




EU may lift imports bans




AFC official apologizes for tirade




China opens diplomatic files to the public