AFC official apologizes for tirade of misunderstanding
By Chen Xiangfeng, Li Fei (China Daily)
Updated: 2004-07-20 01:25
General Secretary of AFC (Asian Football Confederation) Peter Velappan offered an apology Monday in the wake of his harshly worded criticisms of Chinese football fans just after the Asian Cup opening ceremonies this past weekend.
The AFC boss's remarks immediately stirred wide dissatisfaction from fans and disproval from the Asian Cup Beijing organizing committee.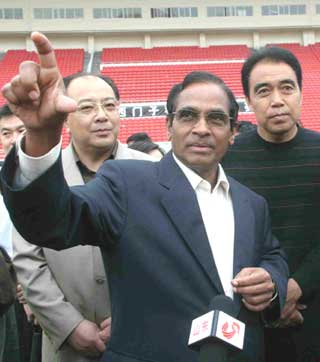 Asian Football Confederation chief Peter Velappan gestures during an inspection tour of a Jinan stadium in Shandong Province, another venue for the 13th Asian Cup in this May 26, 2004 file photo. [newsphoto]

"What he said is ridiculous and unacceptable. He has no right to say something improper about Chinese football, and even the Beijing Olympics," said Lu Bing, a 45-year-old software designer in Beijing.

In a public tirade after host China was held to a 2-2 draw by Bahrain, Velappan made threats that the AFC would not support any future bid by the Chinese capital to host World Cup games, and even voiced doubts it could host a successful 2008 Olympic Games.

"The people of Beijing are not polite," he said in the angry outburst, which received international attention.

"People were booing and jeering. This is not the culture of China. You have great culture, tradition and education in China, but this was not evident today. The behaviour today has made me think I'm not so sure Beijing can host a good Olympics."

Chinese fans hit back in various ways.

"I am furious. What he said is really nonsense. I watched the opening ceremony at the stadium. Fans were actually booing an official from China, not (FIFA president Sepp) Blatter or the AFC president Mohamed bin Hammam,'' said Lin Hong, a student from Tsinghua University.

"It is true that there were not enough fans at the opening ceremony. But it is the fault of the low level of Asian football and especially the level of China's football. It has nothing to do with the organization of China's ticket sales," Lin said.

Responding to strong reactions from fans and the Chinese media, Velappan claimed that a misunderstanding had led him to question the behaviour of the Beijing fans.

"I misunderstood why they were booing. I was told there was a technical problem," he said.

Before his apology, hundreds of thousands of football fans reached the committee by telephone and expressed their strong feelings at Velappan's bellicose outburst.

His doubt about Beijing's ability to host the 2008 games caused fierce protests with three fans representing Beijing Fans Association submitting a letter of protest to Velappan on Sunday night.

The letter asked for an apology from Velappan and signaled a warning that the thin-skinned football executive would become an unpopular man if he did not choose to make an appropriate apology.

"It is a humiliation to Beijing's fans, to the Chinese Olympic committee and even to the whole country. He must apologize for his improper remarks,'' said a furious fan, who send those words by Internet and appealed to more fans to protest.

In regard to the Olympics, Velappan backed down completely, saying Beijing has a very promising future.

"Beijing will be the best ever Olympics, given the help of the people and the government," he said. "It will be the best ever, fantastic.''

On the other hand, the Beijing organizing committee of Asian Cup said it was holding discussions about the relatively high ticket prices for its events and is making plans to further improve the cup games' organization.

But officials clearly appeared unhappy about Velappan's comments.

"I admit that the preparation work is not perfect. But it cannot be an excuse for his doubts about the 2008 Olympics,'' said Zhang Heng, the committee's general secretary, who also had asked Velappan to explain his remarks and called for an apology.

"Since we successfully bid for the 2004 Asian cup in 2000, the Beijing organization committee has been working hard on the preparations. Many AFC and FIFA officials congratulated me on a successful opening ceremony. They praised us for our good organization,'' Zhang said.

"What he said is beyond football and really hurt the feelings of Beijing's people.''

CFA needs reform to revamp management


When questioning Beijing's fitness to host the 2008 Olympics, Peter Vellappan, general secretary of Asian Football Confederation (AFC), should be ruled "offsides" for reacting as he did after the city's soccer fans booed during a speech given by FIFA President Sepp Blatter during the opening ceremony of the on-going Asian Cup.

Vellappan's reaction was however the result of a misunderstanding.

The booing broke out Saturday afternoon as Blatter and AFC President Mohamed Bin Hammam addressed the crowd at the Beijing Workers' Stadium.

However, the fans' booing was actually targeted at the deputy secretary-general of the widely unpopular Chinese Football Association (CFA), whose image appeared on the stadium's big screen television as other officials were speaking.

The sweeping booing, taking place in such a high-profile event as the Asian Cup, in which both the top soccer officials from FIFA and AFC were present, dealt an ultimatum to the disgraced CFA, which fans have long blamed for Chinese soccer's lacklustre performances.

Debuted 10 years ago and hailed as the milestone in China's soccer history, the much-touted domestic league is still a mess, plagued by numerous problems, such as the "black whistle" and "money-bought goals."

Fans' enthusiasm has been repeatedly dampened as the national soccer team failed again and again to stage a decent performance in a single major international game and as the scandal-saddled domestic league eroded away its credibility. Their frustration towards CFA, which is in charge of China's soccer programme, has been growing for years.

The calls for overhauling China's soccer management body, namely the CFA, have never ebbed, but complaints have always fallen on deaf ears.

In Saturday's booing, however, fans dealt a red card loud and clear to the CFA. It was an improper time and place for fans to react in such a way, but this incident should be interpreted as a warning to CFA that now it is the time to heed calls for reform, otherwise it risks being sent off the playing field.

As such, Vellappan's remarks as a result of misunderstanding are far less offensive than the CFA's years of incompetence and failure.




Today's Top News
Top China News

AFC official apologizes for tirade of misunderstanding




Intense flood strain builds up




Green policies vital for healthy development




100 foreign banks now offer RMB services





Safety of Chinese abroad on work agenda




EU may lift imports bans