Intense flood strain builds up
By Liang Chao (China Daily)
Updated: 2004-07-20 00:45
Officials fear the danger for more flooding on the nation's rain-swollen rivers could worsen as the summer's major flood season officially begins.
Heavy rains and stormy weather are expected in many areas, with precipitation reaching as much as 60 to 253 millimetres in eastern parts of Southwest China, the Hanshui River Valley, most areas between the Yellow and Huaihe rivers, Northeast China and South China provinces like Guangxi, meteorologists predicted Monday.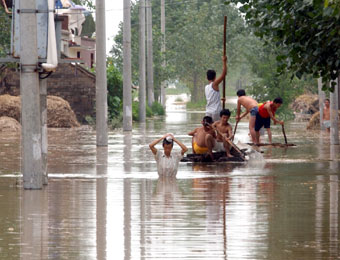 Residents in a flood-hit village in Yancheng County, central China's Henan province, paddle a raft to fetch the relief distributed by the government on Monday, July 19, 2004. [newsphoto]

More local rivers will continue to swell with heavy rainfall expected in the coming days. Rain has already caused local rivers to overflow in Central China's Henan Province.

"Disasters like torrential rain, typhoons, mountain torrents, and storm tides are likely to occur throughout China at any moment in the days ahead since the entire country is now in its major flood season," the Beijing-based State Flood Control and Drought Relief Headquarters warned Monday at an emergency circular.

"Local authorities must try their best to deal with emergency issues of flood control, mass evacuation or relocation of stranded people and epidemic prevention," the circular said.

The headquarters urged meteorological departments to issue timely forecasts for key devastating calamities for decision-makers to take planned measures and mitigate damage.

Headquarters officials have made it clear that top priority for disaster-relief will be given to safeguard people's lives over any other matters.

"Locals living nearing overflow reservoirs, sluices of rain-swollen rivers or their detention basins must be move out from their homes before any of such facilities are used," they say.

Fortunately, the intense rainfall that slashed through central China's Huaihe River last week with some injuries and deaths have faded, weather experts from the Central Meteorological Observatory said.

However, the heat wave will sweep over parts of North, Northwest China's provinces like Gansu, Inner Mongolia and Xijiang as of this week along with parts of South China, including Guangdong and Hainan province.

Some parts of the south will see temperatures rise to 35 C with the maximum to reach 38 C today and tomorrow, they said, adding that brief strong gusts and hail may also strike a few places.

Rain storms have stricken many parts of China in the past week, with regions including Central China's Hubei and Henan provinces, East China's Shandong Province and Southwestern Chongqing Municipality all striving to reduce damage caused by the heavy rains.

By Sunday evening, flood caused by heavy rain left five people dead and 11 missing in the Lisu Autonomous Prefecture of Nujiang, southwestern Yunnan Province.

Transportation and communications in Pianma Town, Lushui County have been interrupted, with five people dead and 11 missing.

Neighbouring Myanmar, Pianma Town, saw a flood that destroyed 129 houses and three wood-manufacturing plants and 20 vehicles submerged.

Mud-rock flows caused by the storm also killed a student in Gongshan County.

A continuous storm hit the prefecture from July 1 to July 18. The water level in Liuku Reservoir reached 809.96 metres on Sunday morning, 1.77 metres above its flood stage.

Over the weekend, five people were reportedly injured, with one seriously hurt, in Yinan County in East China's Shandong Province as a tornado and downpours with an average of 100 millimetres of rain slashed many areas.

By press time Monday, more than 14,000 locals were affected, 6,621 house rooms damaged with 2,600 hectares of crops inundated.

Large tracts of maize were dislodged by a tornado with big trees toppled, witnesses said, adding that debris from damaged houses was littered almost everywhere in Caijia Village.

The local government has dispatched doctors and relief workers to the worst hit areas for the homeless with 400,000 yuan (US$48,192) earmarked for emergency dwellings to be built.




Today's Top News
Top China News

AFC official apologizes for tirade




Intense flood strain builds up




Green policies vital for healthy development




Safety of Chinese abroad on work agenda




EU may lift imports bans




China opens diplomatic files to the public