South Koreans won't take CIA's 'No' for an answer
(Agencies)
Updated: 2004-07-19 09:55
South Korea has been pushing the U.S. Central Intelligence Agency to change the way it spells President Roh Moo-hyun's last name, but the CIA is sticking to its guns, the embassy said on Sunday.
In an online directory and in its World Fact Book, a standard reference, the CIA spells it "No," rather than "Roh," the Korean leader's preference.
The embassy has sent the CIA three formal requests, one last year and two this year, as part of efforts to get the entire U.S. government to change its spelling, said Jeongsun Suh, the officer in charge of press and culture.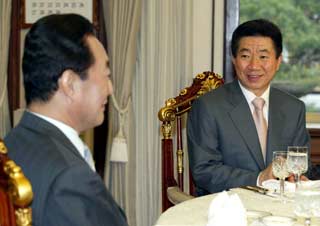 South Korean President Roh Moo-hyun (R) looks at Prime Minister Goh Kun at a dinner meeting at the presidential Blue House in Seoul May 14, 2004. [Reuters/File]

"Up to now, we didn't receive a response," he said.

The State Department also uses the transliteration on its Web site.

Suh said the chief rub was the World Fact Book, even though it brackets in the spelling preferred by the president.

The CIA standardizes spelling of foreign names for its online directory of foreign leaders, updated weekly, as well as for an in-house operation that translates and transcribes overseas broadcasts.

The directory of chiefs of state and cabinet members of foreign governments seems to suggest that President Roh should get his wish.

It says the spellings it uses follow transliteration systems "generally agreed upon by U.S. government agencies, except in the cases in which officials have stated a preference for alternate spellings of their names."

The CIA had no immediate explanation of the lag in meeting the Korean request.

The issue caused a stir this week after the Korean Overseas Information Service told the Korea Herald newspaper it would nudge the CIA again.

The agency apparently has been sticking to the so-called McCune-Reischauer system for the Romanization of Korea, first published in 1939 and still the most widely used among western experts.




Today's Top News
Top World News

China opposes US congress' resolution on Taiwan




Predicted rains signal flood, mud slide alarm




Zarqawi group puts bounty on Iraqi PM's head




Expert: Economy not overheated in all areas




Grain supply deficit remains




Videotape shows American's decapitation