US airstrike kills 14 in Fallujah
(Agencies)
Updated: 2004-07-19 09:42
A U.S. airstrike authorized by Iraqi interim Prime Minister Iyad Allawi hit purported trenches and fighting positions in Fallujah used by al-Qaeda linked foreign fighters, killing 14 people early Sunday, Iraqi officials said.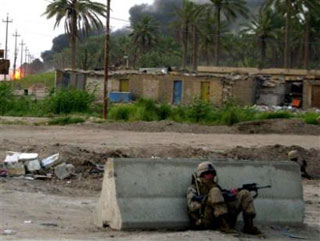 An American soldier takes cover behind a concrete barrier as fire bellows from a fuel tanker hit by an air strike in Latefia, 40 kms south of Baghdad, Iraq July 18, 2004. The multinational force asked Prime Minister Allawi for permission to launch strikes on some specific places. [AP]


Also, a group close to al-Qaeda-linked militant Abu Musab al-Zarqawi is offering a $280,000 reward for the killing of Allawi, according to a statement posted Sunday on an Islamic Web site. The statement by the group Khalid bin Al Walid Brigade called Allawi an "American stooge" and said that its assassins were ordered to kill the prime minister and other Iraqi leaders.

U.S. authorities last week have raised to $25 million from $10 million the reward for information leading to the arrest of al-Zarqawi, a Jordanian suspected of masterminding a wave of terror attacks in Iraq. Al-Qaeda leader Osama bin Laden has a $50 million bounty on his head.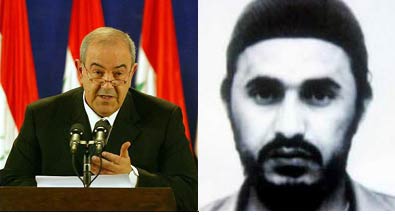 A group led by suspected al Qaeda ally Abu Musab al-Zarqawi (right) offered a reward of US$282,000 on Sunday for the killing of Iraqi Prime Minister Iyad Allawi (left), report said. [file photo]


Word that Allawi approved the early morning attack was a clear attempt to show that the Iraqi government has taken full sovereignty from the Americans and has firm control, despite its deep reliance on the 160,000 foreign troops, mainly from United States.

"We worked with the government, the government was fully informed about these matters, agreed with us on the need to take the action, we conducted the action," Deputy Secretary of State Richard Armitage said during a news conference here. "We didn't just strike off on our own, a sovereign nation had to agree."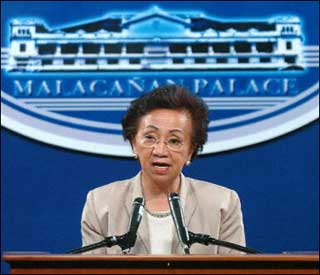 The remaining members of the tiny Philippine police and military contingent in Iraq are to withdraw on Monday, Foreign Secretary Delia Albert, announced. [AFP file]

Also Sunday, Philippine leaders said they would finish withdrawing their small contingent of troops from Iraq as early as Monday in keeping with the demands of kidnappers holding a Filipino truck driver hostage.

Since the Marines pulled back from Fallujah — a focal point of resistance to the U.S. occupation — after besieging the city for three weeks in April, the U.S. military has been limited to using missiles attacks and airstrikes to hit potential targets there.

The nature of Sunday's target, like those hit in previous attacks, was in dispute.

The U.S. military said it had destroyed trench lines and fighting positions used by fighters loyal al-Zarqawi. The military said 25 al-Zarqawi fighters had been at the site just moments before.

Fallujah Mayor Mahmoud Ibrahim al-Jirisi said the attack hit a site for civilians supporting the Fallujah Brigade, a militia of local residents that took responsibility for security in the city when the Marines left.

"There are no Arabs or foreigners with them," he told the pan-Arab television station Al-Jazeera.

Explosions from the 2 a.m. strike Sunday rocked the city. Scores of people ran to the scene and dug through the wreckage looking for survivors. Body parts were scattered at the scene; some were stacked and covered by a gray blanket.

The attack, the sixth U.S. strike on the city in roughly a month, killed 14 people and injured three, according to Saad al-Amili, a Health Ministry official.

After a July 5 airstrike, Allawi, who has promised strong security cooperation with the Americans, issued an unprecedented statement saying his government had provided intelligence for the strike.

After this attack, he went far further, saying that he had authorized the strike.

"The multinational force asked Prime Minister Allawi for permission to launch strikes on some specific places where some terrorists were hiding," an official in Allawi's office said Sunday on condition of anonymity. "Allawi gave his permission,"

The U.S. military also issued a statement confirming Allawi had authorized the attack.

Since the U.S. occupation government handed over sovereignty to the interim government June 28, officials from both nations have emphasized that Iraq was now a sovereign nation able to make its own decisions, despite the huge U.S. troop presence and the massive, U.S.-financed reconstruction programs.

Armitage, the highest-ranking U.S. official to visit since the handover, emphasized the independence of the interim government.

"We're not in the front seat anymore with our hand on the steering wheel. We are a supporting partner to a sovereign government," he said during a news conference.

Armitage also expressed regret at the decision of the Philippines government to pull its forces out in the face of the hostage crisis.

The pullout, engineered to save the life of Angelo dela Cruz, was scheduled to end as early as Monday, when the 22 remaining members of the humanitarian contingent were to make an "exit call" on the new Polish commander at their base south of Baghdad, Philippine Foreign Minister Delia Albert said.

"After the call, the remaining contingent will then proceed to Kuwait, and from there, return to Manila by commercial flight," Albert said.

Some allies have sharply criticized the move, saying it would only encourage more kidnappings.

Over the past 15 months, militants have used kidnappings, car bombs, sabotage and other attacks to try to destabilize the country and push out coalition troops.

In their continuing effort to rout the insurgency, U.S. forces said Sunday they had detained a senior commander of Saddam's elite Republican Guard, who was suspected of planning and financing attacks against Iraqis, Iraqi security forces and coalition troops.

Iraqi national guardsmen and coalition forces captured Sufyan Maher Hassan in a raid in Tikrit on Friday. He was being held at a local multinational force detention facility, said Maj. Neal O'Brien of the 1st Infantry Division.

Hassan was the Republican Guard commander responsible for units defending Baghdad during the war. A relative of former leader Saddam Hussein, Hassan was blamed for the quick fall of Baghdad. He was not on the United States' list of the 55 most wanted Iraqis.

Meanwhile, Allawi issued a decree Sunday reopening a controversial newspaper that had been closed by U.S. officials in March, sparking months of fighting between U.S. forces and fighters loyal to radical Shiite cleric Muqtada al-Sadr.

The weekly Al-Hawza was the mouthpiece of al-Sadr's "Sadrist" movement, routinely carrying his fiery sermons on its front page along with articles sharply critical of the U.S.-led occupation.

Allawi, himself a Shiite, ordered the paper reopened in an effort to show his "absolute belief in the freedom of the press," his office said in a statement. The decree appeared designed to broaden Allawi's base of support as his government struggles for legitimacy.

Also Sunday, two car bombs targeting police exploded in the city of Tikrit, killing two police officers and wounding five others, Iraqi authorities said.




Today's Top News
Top World News

China opposes US congress' resolution on Taiwan




Predicted rains signal flood, mud slide alarm




Zarqawi group puts bounty on Iraqi PM's head




Expert: Economy not overheated in all areas




Grain supply deficit remains




Videotape shows American's decapitation