Sharon urges exodus of Jews from France
(Agencies)
Updated: 2004-07-19 09:05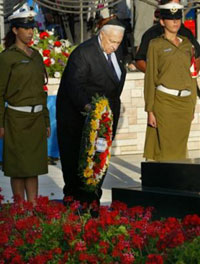 Israeli PM Ariel Sharon lays a wreath on the grave of Likud founding father Zeev Jabotinskya during a ceremony marking the 64th anniversary of his death at Mt. Herzl in Jerusalem,July 18, 2004. [AP]

Israeli Prime Minister Ariel Sharon on Sunday urged French Jews to flee the country to escape a rising tide of anti-Semitism, while acknowledging that the French government is fighting racial violence.

The latest French Interior Ministry figures show 510 anti-Jewish acts or threats in the first six months of 2004 — compared to 593 for all of last year.

"If I have to advocate to our brothers in France, I will tell them one thing," Sharon told visiting American Jewish leaders in Jerusalem. "Move to Israel, as early as possible."

Anti-Semitic acts against Jewish schools, synagogues and cemeteries have risen in France in recent years, coinciding with growing tensions in the Middle East. Many attacks have been blamed on young Muslims.

"We see the spread of the wildest anti-Semitism there," Sharon said.




Today's Top News
Top World News

China opposes US congress' resolution on Taiwan




Predicted rains signal flood, mud slide alarm




Zarqawi group puts bounty on Iraqi PM's head




Expert: Economy not overheated in all areas




Grain supply deficit remains




Videotape shows American's decapitation