Head of Philippine contingent in Iraq arrives home
(Agencies)
Updated: 2004-07-19 08:45
The head of Philippine troops in Iraq returned to Manila on Monday, the first of the 51-member contingent to come home after the Philippines said it would withdraw them to save the life of a Filipino hostage.
Brigadier-General Jovito Palparan arrived on a commercial flight ahead of the remaining soldiers and police officers, part of a non-combat contingent that was deployed in August last year as part of a multinational force supporting the U.S.-led war in Iraq.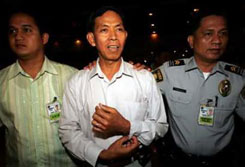 Philippine army Brigadier General Jovito Palparan (C) is escorted by airport officials upon arrival at the Ninoy Aquino International airport in Manila, July 19, 2004. [Reuters]

"I am happy to be back," Palparan told reporters at the Manila international airport. "Our troops back there are all OK. They are preparing to leave soon."

He declined to give further details about the withdrawal of the remaining troops deployed at Camp Charlie in al-Hillah, south of Baghdad.

On Sunday, the Philippines said the troops would leave on Monday to save the life of a Filipino hostage, truck driver Angelo de la Cruz, threatened with beheading unless the country pulls its humanitarian contingent out of Baghdad.

Foreign Affairs Secretary Delia Albert said in a statement that Philippine Ambassador Roy Cimatu would accompany them in an exit call on the new Polish commander in Iraq on Monday.

"After the call, the remaining contingent will then proceed to Kuwait and from there return to Manila by commercial flight," she said.

The government said on Saturday that 11 of its 51-member humanitarian contingent had already arrived in Kuwait from Iraq and were expected to reach Manila on Monday, a move the Philippines hopes will appease the captors of de la Cruz.

The troops were scheduled to leave on Aug. 20, but the date was advanced to satisfy the kidnappers.

De la Cruz said in a message he would be returning home, Arabic channel Al Jazeera said on Thursday. But the group holding the father of eight said it would free him only after Manila withdrew its last soldier.

Washington sought to persuade Manila not to cave in to the militants holding de la Cruz. Some analysts said the pullout would strain Manila's relations with the United States.




Today's Top News
Top World News

China opposes US congress' resolution on Taiwan




Predicted rains signal flood, mud slide alarm




Expert: Economy not overheated in all areas




Grain supply deficit remains




Videotape shows American's decapitation




New law to stimulate foreign trade