Militants sack, burn Palestinian offices
(Agencies)
Updated: 2004-07-19 08:40
Militants sacked and burned Palestinian government offices Sunday, the latest sign of growing anger over Yasser Arafat's decision to reach into his old guard and choose a loyalist relative as his new security chief.
A confrontation was brewing between Arafat — reluctant to yield significant power — and Palestinian militants, including some of Arafat's own officers. They are demanding deep reforms and new faces, Palestinian analysts said.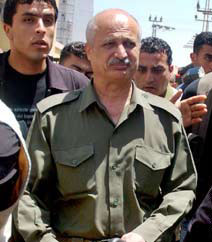 Musa Arafat, new chief of Palestinian security forces, walks outside his office Sunday, July 18, 2004 after a handover ceremony. [AP]

The divide between the two sides centered on the appointment of Moussa Arafat, Arafat's cousin, as the new head of Palestinian security. Many Palestinians rejected him as a symbol of corruption and cronyism, propelling long-held dissatisfaction into the open.

Dozens of masked gunmen marched through the Nusseirat refugee camp in central Gaza after sundown Sunday, chanting, "No to Moussa Arafat, yes to reform."

In the Rafah refugee camp, gunmen exchanged fire with guards at preventive security headquarters and attempted to break into the complex with a bulldozer. The guards wounded three attackers, but there were no casualties to the security forces, personnel at the building said.

A Palestinian freelance reporter on assignment for Reuters was shot in the leg during the Rafah firefight and was in stable condition at a hospital, a Reuters staffer said.

The internal Palestinian unrest was the most serious in more than a year. In 2003, protests against corruption forced Arafat to promise reforms and appoint a new government, led by Mahmoud Abbas. He resigned after only four months.

The turmoil came as Israeli Prime Minister Ariel Sharon planned to withdraw from Gaza next year, intensifying a struggle for power and influence among the various Palestinian factions.

Sharon said the trouble reinforced his contention that Israel cannot negotiate with the present Palestinian leadership.

Defense Minister Shaul Mofaz called Arafat's reforms "an illusion" and said the Palestinian leader had retained his grip on power. "They are playing musical chairs," he told Israel Radio.

Coalition negotiations between Sharon's Likud Party and the moderate Labor Party began Sunday, as Sharon tries to shore up his shaky government, weakened by internal opposition to the Gaza pullout. Talks were to continue Monday, according to a statement from Labor Party leader Shimon Peres.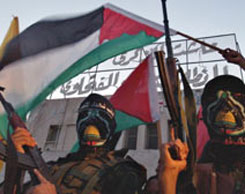 Masked militants of the Al Aqsa Martyrs Brigades demonstrate against the new appointments Saturday, July 17, 2004 in Gaza City. [AP]

The unrest began after Arafat decreed a consolidation of about a dozen disparate security branches into three services — a key element of reform that the United States and Egypt have said would be necessary to revive deadlocked peace efforts.

But the Palestinian leader defied international peacemakers by declining to put the security forces under the control of the Cabinet, and by naming his cousin and longtime lieutenant, Moussa Arafat, as security chief.

Protesting the appointment, militants broke into a building of the Palestinian Authority in the southern Gaza city of Khan Younis early Sunday and burned two offices. A security guard was wounded in a gunfight.

Hundreds of Palestinians, many of them carrying assault rifles, demonstrated in Gaza's streets against Moussa Arafat.

The appointment deepened the rift between Arafat's generation, which led the Palestinian struggle from exile for decades, and young Palestinians who lived under Israeli occupation and now accuse the old guard of corruption and monopolizing power.

Dissent, however, went beyond the generational divide and spread to the security forces.

Navy chief Gomma Ghali, an Arafat loyalist, handed in his resignation to protest Moussa Arafat's appointment, joining the head of intelligence and the head of the preventative security, who resigned Friday. However, Arafat has not accepted the resignations.

A statement from the office of Maj. Gen. Amin Al-Hindi, the intelligence chief, said Arafat's recent appointments "cannot help solve the internal situation and the internal reforms."

"The new appointees are a part of the problem and therefore cannot be part of the solution," Issa Abu Aram, the head of operations for preventive security in the West Bank, told The Associated Press.

In a rare news conference, Moussa Arafat brushed aside protests over his appointment.

"I take my orders from His Excellency President Arafat," he said, seated below a huge portrait of his mentor. "He is the only one who can ask me to quit my job."

He said he was ready to "engage in any battle against any potential enemy," and made it clear the enemy could come from within the Palestinian camp.

Previously the head of the Palestinian intelligence services, Moussa Arafat has a reputation for ruthlessness. He was among the founders of Fatah in 1965 and has stood by his cousin's side since then.

In 1996, during a mass roundup of Hamas and Islamic Jihad militants, Moussa Arafat shaved the heads and beards of the men he imprisoned to humiliate them. Human rights groups accused him of torture.

"I don't like Moussa Arafat, but I also don't agree with what happened in Khan Younis," said Hisham Betar, a 32-year-old school teacher who described himself as a supporter of Arafat's Fatah movement. He warned that internal Palestinian conflict would benefit only Israel.

There also was no apparent solution to the standoff between Arafat and the prime minister of the Palestinian government, Ahmed Qureia, who resigned in frustration over his inability to effect change.

"I totally reject your resignation and consider it nonexistent," Arafat told Qureia on Sunday, according to Cabinet minister Saeb Erekat, who attended the meeting. Qureia told his Cabinet on Saturday he was firm in his decision to quit.

The crisis began after the kidnappings on Friday of two senior Palestinian security officials and four French volunteer workers in three separate incidents.




Today's Top News
Top World News

China opposes US congress' resolution on Taiwan




Predicted rains signal flood, mud slide alarm




Expert: Economy not overheated in all areas




Grain supply deficit remains




Videotape shows American's decapitation




New law to stimulate foreign trade