Singapore's Lee set to take over as PM on Aug 12
(Agencies)
Updated: 2004-07-17 21:45
Lee Hsien Loong, son of modern Singapore's founder Lee Kuan Yew, will take over as prime minister of the wealthy city state on Aug. 12, the office of current premier Goh Chok Tong said on Saturday.
In only the second transition of power in Singapore since the elder Lee spearheaded independence from Malaysia in 1965, the new prime minister is expected to bring a more authoritarian style of government but no major policy changes.
| | |
| --- | --- |
| Singapore PM Goh Chok Tong, who announced he'll hand over power to the son of Singapore's founding father Aug 12. [AFP] | Singapore's Deputy Prime Minister Lee Hsien Loong is seen in Tokyo in this October 15, 2002 file photo. [Reuters] |
"Prime Minister Goh Chok Tong will relinquish his office on August 12, 2004. He will formally advise the president to appoint Deputy Prime Minister Lee Hsien Loong to succeed him," Goh's office said in a statement.

The 52-year-old Lee, a Cambridge and Harvard educated former brigadier general, was endorsed as premier by the government's ruling People's Action Party on May 29.

His accession to the top job comes amid a year of political change in Southeast Asia. A new president of Indonesia is currently being elected and Malaysia's new prime minister Abdullah Ahmad Badawi scored a landslide victory in March.

The younger Lee has always been seen as likely to take over in Singapore and was appointed deputy prime minister in 1990. He has held all the senior economic posts, including his current roles as finance minister and chairman of the central bank.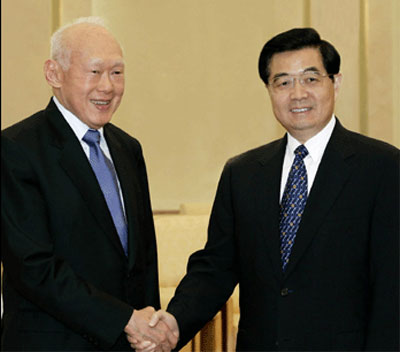 Chinese President Hu Jintao (R) meets with visiting Singaporean Senior Minister of the Prime Minister's Office Lee Kuan Yew at the Great Hall of the People in Beijing, June 19, 2004. [Xinhua]

"If you look behind that at the substantive policy issues, the differences between Lee and Goh are very hard to find," said Garry Rodan, director of the Asia Research Center at Murdoch University in Western Australia.

"I don't know of any policy differences."

Lee has also played a key role in formulating government plans to re-engineer Singapore's economy and society in the face of growing competition from low-cost countries like China and India to make it more vibrant and entrepreneurial.

DIFFERENT PROBLEMS

Though a smooth transition is expected, Lee faces different problems from those his father did, with a more affluent, well traveled and better educated population pressing for more freedoms in the tightly controlled country.

He is also bound to be compared to his father, who is credited with transforming Singapore from gritty sea port to flourishing financial center. The elder Lee, now aged 80, remains a powerful force in Singapore politics despite having handed over to Goh in 1990.

His son may also have trouble measuring up in terms of popularity. Goh admitted as much in August last year when he urged Lee "to let his softer side show."

Goh, once written off as a mere seat warmer for the Lee family, remains well-liked by ordinary Singaporeans. His affable style has helped his ministers administer harsh medicine such as wage cuts despite rising unemployment.

"For some years now Lee has deliberately been trying to project a softer image, an image that he is much more like Goh than he is his father," said Rodan.

Early signs that straight-laced Singapore is loosening up have include the airing on Friday of the U.S. sitcom "Sex and the City" for the first time, a relaxation of bans on bar-top dancing and a partial end to a 12-year ban on chewing gum.

"Lee Hsien Loong is essentially filling a very big pair of shoes," said Joseph Tan, economist at British investment bank Standard Chartered. "His father has already said that the likelihood of the public comparing him to his own image is very likely."

The charismatic, no-nonsense elder Lee surprised many by announcing last September that he intended to stay in public life as long as he is fit. He is now "senior minister," an influential advisory cabinet post with no portfolio.

If the elder Lee stays on, he and his son would occupy two of the top posts in Southeast Asia's wealthiest nation.

The younger Lee's wife, Ho Ching, is executive director of powerful government investment arm Tamasek Holdings, which owns stakes in Singapore Airlines, Singapore Telecommunications and other firms.




Today's Top News
Top World News

China to wage people's war against porn websites




Six Nobel winners named top science gurus




US delays seeking charges for ex-soldier




China to launch research station in Arctic




Sex slave sights subject of debate




Extreme weather takes toll across nation