Baghdad car bombs kill five
(Agencies)
Updated: 2004-07-17 15:44
Two car bombs exploded at almost the same time in and near Baghdad Saturday morning, wounding dozens of people and killing at least five, Iraqi police said.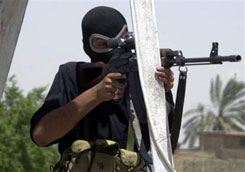 A member of Muqtada al-Sadr's militia guards afternoon prayers in the Sadr City neighborhood of Baghdad, Iraq, July 16, 2004. Al-Sadr's militia, who fought U.S. troops for two months, is quietly working to transform itself into a behind-the-scenes political power. [AP]

One car bomb blast hit the convoy of Iraqi Minister of Justice Malik Dohan al-Hassan and killed four people, mostly believed to be his guards, and wounded six others. The explosion happened near the minister's home in the Jamiya district of central Baghdad at 7:40 a.m., according to Iraqi Interior ministry spokesman Col. Adnan Abdulrahman.

A second car bomb -- said to be a suicide bomb -- exploded near an Iraqi National Guard base in the city of Mahmudiyah, local Iraqi police said. That explosion also happened at 7:40 a.m., police said.

At least 28 people were hurt, including 14 civilians and 14 National Guard troops. The only confirmed death was an Iraqi National Guardsman, police said.

Iraqi National Guard troops fired on the car, but the vehicle crashed into a security checkpoint and exploded next to the building, police said.

Mahmudiyah is located about 20 miles south of Baghdad.




Today's Top News
Top World News

China to wage people's war against porn websites




Six Nobel winners named top science gurus




US delays seeking charges for ex-soldier




China to launch research station in Arctic




US to impose tariffs on Chinese products




Extreme weather takes toll across nation