US delays seeking charges for ex-soldier
(Agencies)
Updated: 2004-07-17 15:27
The United States maintains its right to try an ex-U.S. soldier accused of deserting to North Korea, but may delay doing so out of respect for his health, U.S. Ambassador to Japan Howard Baker said Saturday.
Charles Robert Jenkins, 64, a former U.S. army sergeant who Washington says deserted to North Korea in 1965, is expected to arrive in Japan on Sunday with his Japanese wife and the couple's two North Korean-born daughters for medical treatment despite questions about his fate.

Former U.S. soldier Charles Robert Jenkins waves upon arriving at a Jakarta hotel from North Korea on July 9, 2004. Jenkins, accused of deserting to North Korea, will travel to Japan for medical care on Sunday, but Tokyo is still discussing the question of his custody with Washington, the Japanese government said. [Reuters]


"I acknowledged that...the US government is sympathetic to his health condition and that Sergeant Jenkins' medical condition may delay our request for his transfer to US custody," Baker said after meeting Japanese Foreign Minister Yoriko Kawaguchi.

He added that there are no plans for US officials to see Jenkins in Japan, who will be taken to hospital upon arriving in Tokyo, at any time in "the immediate future." But Baker reiterated Washington's view that Jenkins, a native of North Carolina, had deserted.

"The U.S. government has the right to request custody...and will do so at the appropriate time," he said.

Tokyo has asked for special treatment for him, worried that he would be handed over to U.S. authorities for court martial if he came to Japan.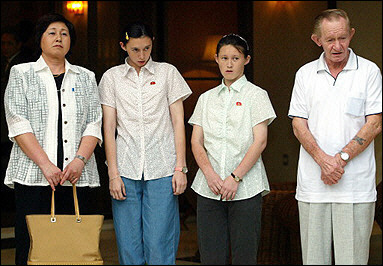 Alleged US army defector who lived in North Korea for decades, Charles Robert Jenkins (R), his Japanese wife Hitomi Soga (L) and his two daughters Brenda (2nd R) and Mika. The US said it will seek legal custody of Jenkins if he goes to Japan. [AFP]


Hitomi Soga, Jenkins' wife, was repatriated to Japan with four other Japanese abductees in 2002 but had to leave behind Jenkins and their two daughters, Mika, 21 and Belinda, 18.

A nurse when she was kidnapped with her mother by North Korean agents as they returned from buying groceries one day in August 1978, Soga was gagged, flung in a sack and put on a boat bound for North Korea.

Her mother, Miyoshi, has not been heard from since.

The tale of all five abductees has fascinated Japan, but Soga's story, along with her penchant for expressing her feelings in poetry, have made her a special favorite.

"Everything, from people's hearts, the mountains, rivers and valleys, looks beautiful," she wrote after coming home. "The skies, the earth and trees are singing 'welcome back' for me."

"Clear-blue autumn skies. Going through the skies would take me back to my beloved family. If I had wings or if I were a bird, I could fly and bring them right back with me," she wrote, months ago.

Her reunion with Jenkins in Jakarta last Friday, especially the tight embrace and long kiss with which she greeted him at the stairs of a chartered plane, was front page news.




Today's Top News
Top World News

China to wage people's war against porn websites




Six Nobel winners named top science gurus




US delays seeking charges for ex-soldier




China to launch research station in Arctic




Sex slave sights subject of debate




Extreme weather takes toll across nation