Parents mourn after Indian school fire kills 90
(Agencies)
Updated: 2004-07-17 15:03
Parents broke down in tears as the bodies of their children were buried or cremated on Saturday after a fire in an Indian school killed 90 children.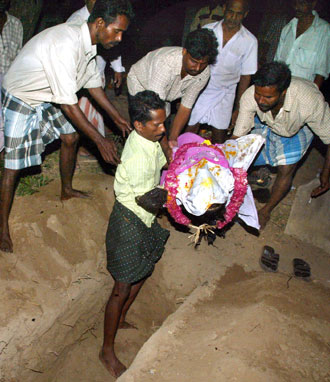 Family members and burial ground workers bury Monica, 10, an Indian school girl in Kumbakkonam, 320 km (200 miles) south west of the Southern Indian city of Madras, July 17, 2004. [Reuters]

"He is gone, he is gone forever," wailed Vijaya as she said farewell to her eight-year-old son Vadivelu, who died of his burns in hospital. "I had prepared his afternoon meal for him, but he will never eat it."

At least 15 people gathered outside her house to console Vijaya and her husband Sekhar, a manual laborer. The scene was repeated in dozens of locations across the little town of Kumbakonam, which lies in a fertile district known as the rice bowl of the southern state of Tamil Nadu.

The bodies of 75 children were recovered from the Sri Krishna school after the fire on Friday. Another 15 children, most just eight or 10 years old, died of their burns in hospital, senior district official J. Radhakrishnan told reporters.

Doctors said another 19 children were in hospital with burns, some of them severe.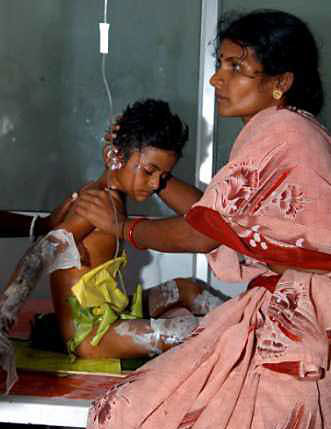 An Indian woman sits beside her badly burned son at a hospital in Kumbakonam, 213 miles southwest of the southern Indian city of Madras, July 16, 2004. At least 77 children were burned to death and more than 100 injured when a fire swept through the private school in Tamil Nadu's Thanjavur district. [Reuters]


Radhakrishnan said five people, including the school principal and the cook, were arrested. Authorities are also investigating why no teachers were killed or injured in the fire.

The blaze began in a kitchen where Friday's lunch was being prepared before spreading to the school's palm-thatched roof. Many of the children were trapped in a large classroom which had only one exit, dying after the blazing roof collapsed on top of them and blocked their way out.

TOO SMALL TO BREAK WALLS

Others died of suffocation as they tried to escape down the narrow staircases.

"The kids were too small to break down the wall or think of any way out," said Balu, a 35-year old father of two, whose children were being taught on another floor and escaped unhurt.

"The government is to blame as there has been no inspection of this school for at least two to three years. If someone had inspected the facilities, maybe they might have pointed it out to the school management, and this might have been avoided."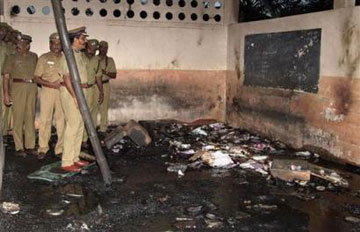 Police officers inspect the burnt remains in a school building in Kumbakonam, about 350 kilometers (215 miles) southwest of Madras, India, Friday, July 16, 2004. [AP]

Newspapers criticized the lack of adequate exits and fire extinguishers as well as the fact that cooking was being carried out under a thatched roof.

The state government said it would give 100,000 rupees ($2,175) in compensation to the parents of each victim. In New Delhi Prime Minister Manmohan Singh sent two cabinet ministers to the state and ordered an investigation into the tragedy.

"Children are the most precious asset of our nation and the loss of so many innocent lives is a matter of deepest sorrow," he said.

The Perumandi cremation and burial ground in the town stayed open overnight as attendants buried or burned the bodies of dozens of children killed in the blaze.

"At least 30 of the bodies that have come here were in the 5-10 year age group," said burial ground owner Subramanian. "The parents are rushing through the last rites as they cannot bear to look at the charred bodies any more."

WENT BACK FOR HER BOOKS

As 10-year old Monica's body was lowered into a grave, next to at least a dozen other freshly dug ones, her father slipped to the ground in grief. A mourner said the girl had escaped the fire only to go back into the building in an effort to retrieve her books.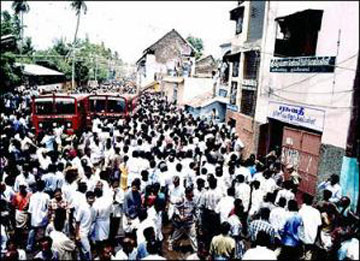 Fire engines arrive at the scene of a fire at a primary school in Kumbakonam in the Indian state of Tamil Nadu. Nearly 84 children were burnt to death in the fire. [AFP]

"She was scared that her parents would scold her for losing the books," he said.

A short distance away in a compound adjacent to the burial ground were 15 piles of smoldering ashes, the remains of cremated children. Four piles of firewood were stacked nearby in preparation for more corpses.

"Some of the parents are so shocked that they do not know what they are doing or saying," said mourner S. Kumar, a 49-year old scrap metal dealer.

"Hindus who would normally burn the bodies of their dead relatives have buried them tonight. Some parents are saying that cannot bear to put these burned bodies into fire again."

The fire at Kumbakonam, a dusty trading town on the banks of the Cauvery River famous for its temples, was the second major fire tragedy in the state this year. More than 50 people were killed in an inferno at a marriage hall in January.

Fires at India's overcrowded and dilapidated schools occur frequently, with safety regulations routinely flaunted.

In 1995, at least 400 people, most of them children, died when a fire destroyed a school in northern India.




Today's Top News
Top World News

China opposes US congress' resolution on Taiwan




Predicted rains signal flood, mud slide alarm




Zarqawi group puts bounty on Iraqi PM's head




Expert: Economy not overheated in all areas




Grain supply deficit remains




Videotape shows American's decapitation